This chicken breast recipe is a much improved version of our family's wildly popular Crispy Oven Roasted Chicken Breast recipe. Right now this is by far my favorite way to cook skin-on, bone-in chicken breasts. It's hard to beat its simplicity and the resulting tender, juicy meat hidden underneath golden brown, flavor-packed crispy skin.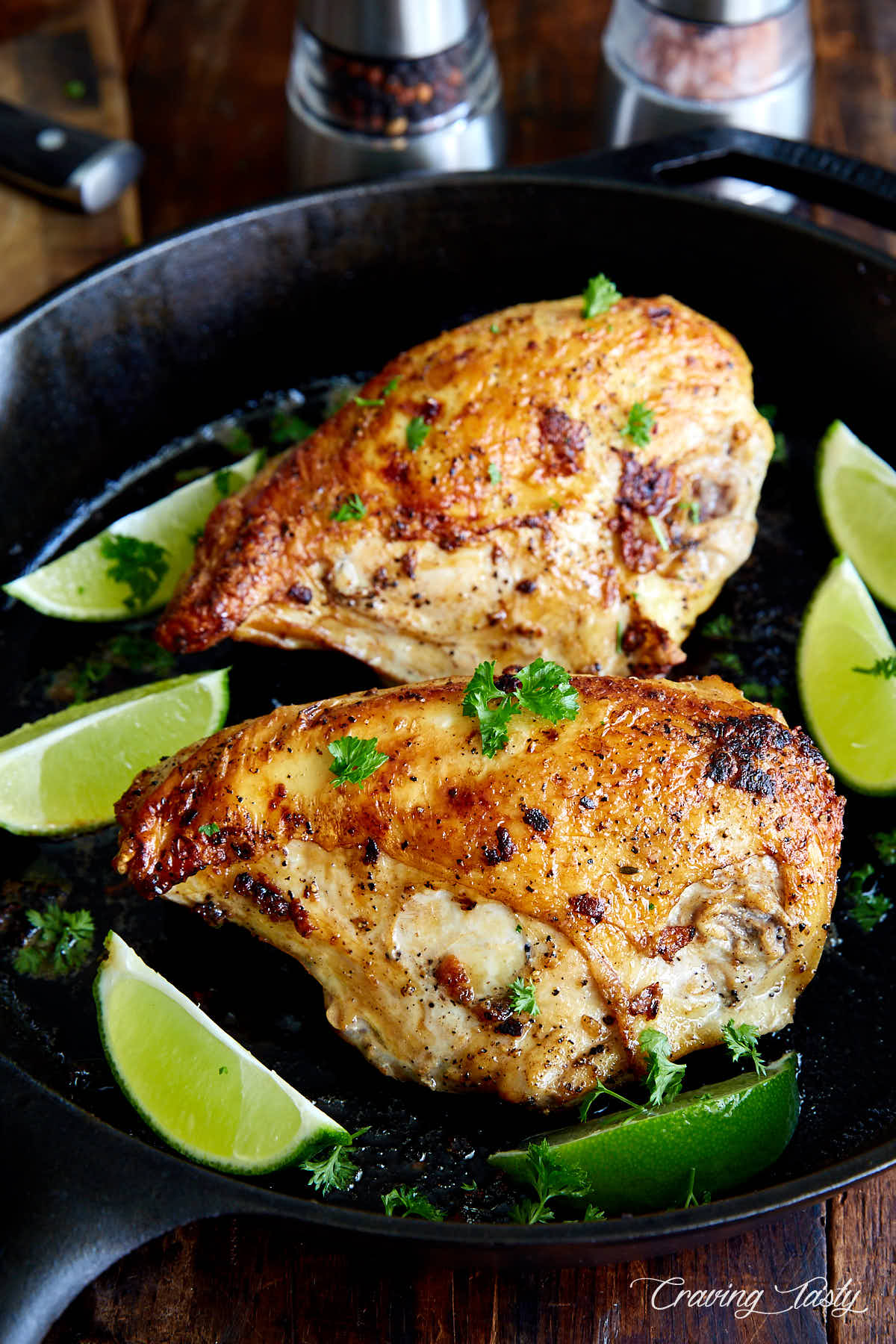 The flavor profile of this chicken breast is very similar to the original recipe, and the cooking process is practically the same. However, there are some significant differences. Unlike the original recipe, this chicken recipe is:
a one pan recipe. All cooking, both on the stove and inside the oven, is done in the same pan. Less mess, less washing to do later
it's healthier and more economical as it uses less oil
it's way faster to prepare. The chicken is done in about half the time compared to the original recipe
I also came to like serving this dish with lime wedges, as some acidity really helps balance out the fat coming from cooking oil, butter and chicken skin fat.
Cooking in a cast iron pan has definite advantages. You can move between the stove top and the oven very easily as cast iron pans are oven safe. One less pan to use. And when you move the pan from stove top to the oven, it's already pre-heated so you get uninterrupted cooking. I like this convenience.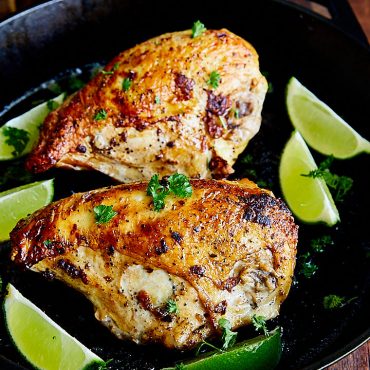 Ingredients
2

large bone-in

skin-on chicken breasts

3

large garlic cloves

minced

2

Tbsp

olive oil

2

Tbsp

unsalted butter

1

tsp

black pepper

2

tsp

sea or kosher salt
Instructions
Preheat the oven to 410F.

Meanwhile, prepare the chicken breasts. Place the chicken breasts, one at a time, in a gallon zip lock bag and, using a cast iron skillet, give them a good whack to break the bones and slightly flatten them. This will help get a more uniform cooking. Rub the breasts with salt, pepper and minced garlic. Set aside.

Heat the butter and the oil in a large cast iron pan over medium-high heat. As soon as the butter turns dark brown, add the chicken breasts skin side down. Sear for two minutes or until the skin becomes dark golden brown. Flip the breasts and sear for another 2 minutes.

Move the pan into the preheated oven and bake for about 17-20 minutes, until the internal temperature reaches 160F. Remove the breasts from the oven and let them rest for 5 minutes. It's best to remove the breasts from the pan as hot cast iron will continue cooking the meat for too long. Serve with chopped parsley and lime wedges, and your favorite side dish.