Baked pork tenderloin is one of my favorite pork dishes. Pork tenderloin is very lean and healthier than most other meat cuts out there. If cooked properly, it can be very flavorful, moist and tender. Baking in the oven is probably the easiest and most fool-proof way to cook tenderloin. It doesn't have that smoky flavor of the smoked pork tenderloin but it's delicious anyway. It does not take long to cook and can be fully done in about half and hour – just throw it in the pre-heated oven and, 25 minutes later, a delicious dinner is ready.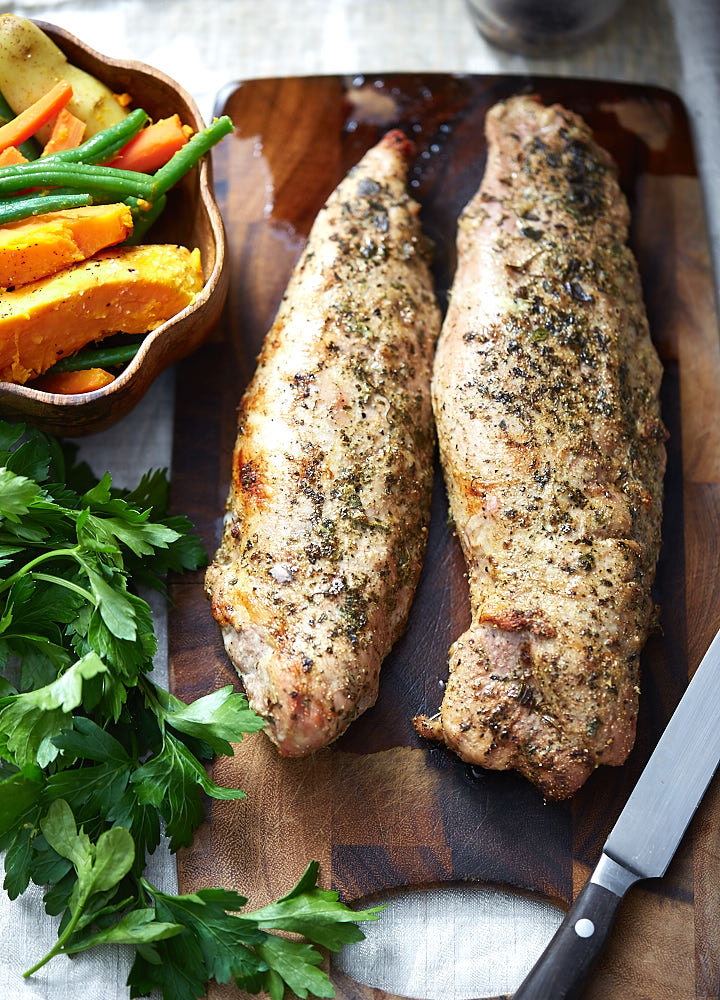 Tenderloin by itself is not a very flavorful piece of meat, just like chicken or turkey breast, so it really benefits from either injecting or marinating.  I like both methods, and which method I pick really depends on my mood and circumstances.
Marinating is less messy and easier – you just mix salt and spices, rub on the meat, and refrigerate. All the spices and salt evenly penetrate the meat, making it perfectly seasoned and flavorful throughout.
Just like with cooking chicken or turkey breast, it's crucial not to overcook tenderloin as it's a very lean cut and will start drying out really quickly when the temperature starts getting close to 150F. USDA recommends cooking pork steaks, chops, roasts  to internal temperature of 145F.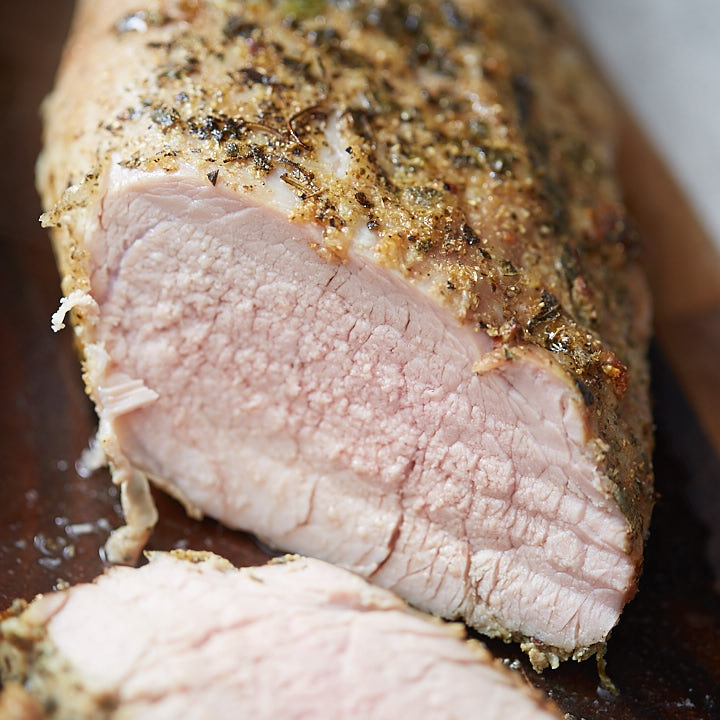 At this temperature the meat is tender and juicy, with a light pinkish hue in the center. If you are not fond of the pink color on your baked pork tenderloin slices, take the internal temperature to about 150F – 155F.  The meat will be just a tad drier, but still very much succulent and tender. Make sure to use an accurate instant thermometer like ThermoWorks Thermapen or any other to help you hit the right temperature. In my oven on top rack tenderloins hit 145F at about 20-22 minutes and 150F at about 23-24 minutes.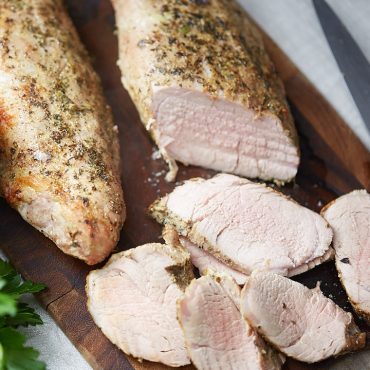 Ingredients
2

pork tenderloins

3

tsp

kosher salt

3

tsp

dried Mexican oregano

1

tsp

garlic powder

2

tsp

onion powder

1

tsp

ground black pepper

1

tsp

ground coriander

2

Tbsp

butter
Instructions
Preheat the oven to 450 degrees F.

In small bowl or a cup mix all dry ingredients such as onion powder, garlic powder, ground black pepper, dried oregano, coriander and salt. Rub the seasoning mix all over the tenderloins, ensuring that no spots are left unseasoned. Place tenderloins in a zip-lock back, close and refrigerate for 8-10 hours. If you are in a rush, you may skip the refrigeration, but tenderloins will be much more flavorful if you let them marinate in seasoning. Try not to skip this step.

Put tenderloins and 2 tablespoons of butter in the roasting pan and cook for about 22-25 minutes, until internal temperature in the middle of the thickest part reaches 145 F. About 12 minutes into the baking, brush the tenderloins with the melted butter from the roasting pan. This will help keep the surface of the meat from drying out and give the bark it's nice golden color.