Lemon-y, garlic-y, zesty and wine-y, this lemon garlic chicken is scrumptious and packs a lot of flavor. The ingredients work really well together and offer a bright, well-balanced taste.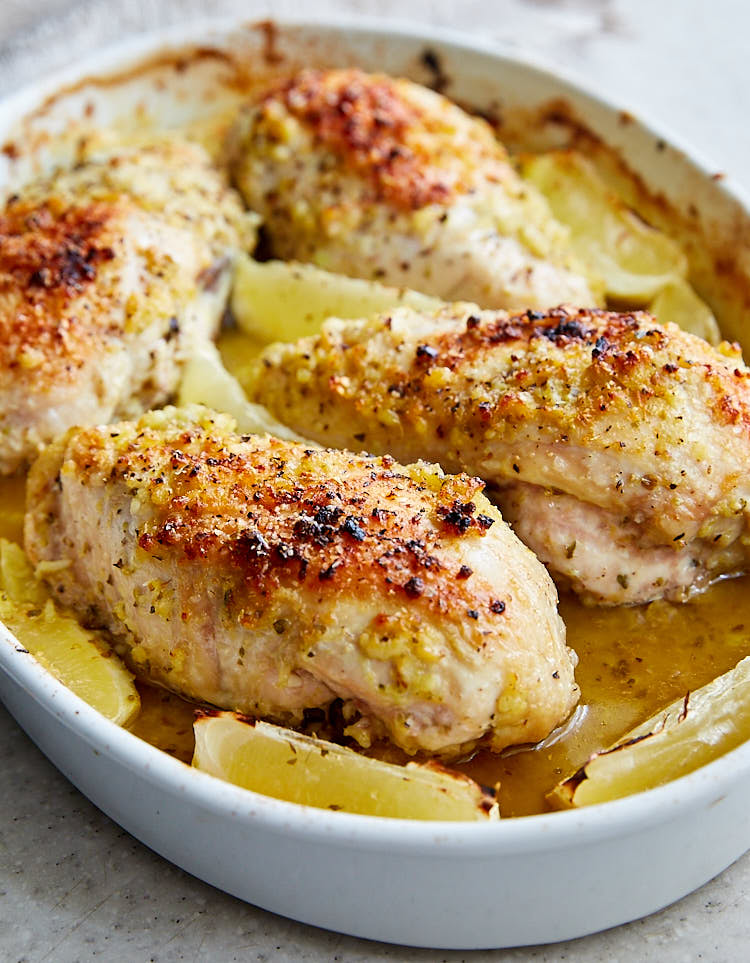 Bone-in vs. boneless skin-on lemon garlic chicken
You can use both skin-on, bone-in and skinless, boneless chicken in this recipe. I find that bones protect the meat from drying out just as much as the skin does. Chicken breasts are especially good for this recipe. Skin-on chicken breasts are normally sold as split breasts, with rib bones attached. So, leave them on. I know, it's easier to eat a boneless breast but I'll a pick juicer meat over convenience any time.
Seasoning the chicken with salt and pepper
My tendency to be precise and sometimes even scientific while cooking went sharply against the 'sprinkle liberally with salt and pepper' recommendation in the original recipe. What does that even mean? Won't you end up with over-salted, over-peppered flesh?  I think that 1/4 a teaspoon of kosher salt and 2-3 turns of black pepper per breast is right where it needs to be. This is for regular size chicken breasts, about 4-6 ounces each. For larger breasts, 6+ ounces, you should increase the amount of salt by about 1 1/2 to 2 times. These are guidelines and you should adjust them up or down to suit your taste.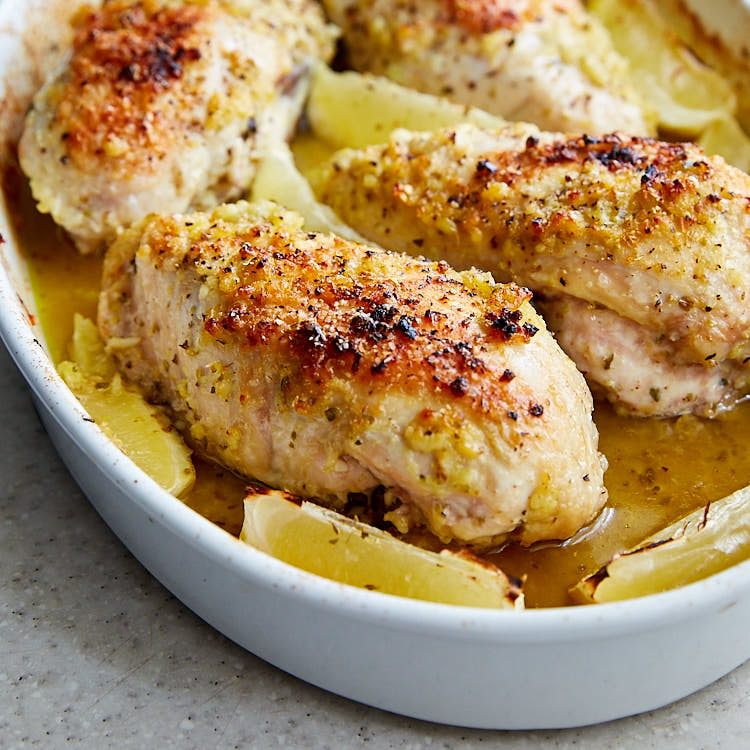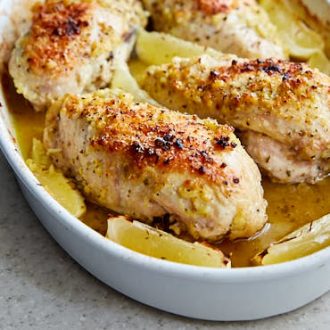 Ingredients
4

chicken breasts

(skin-on, bone-in)

1/4

cup

olive oil

(good quality)

3

Tbsp

minced garlic

(about 9 cloves)

1/3

cup

dry white wine

1

Tbsp

lemon zest

(from about 2 lemons)

2

Tbsp

freshly squeezed lemon juice

(from about ½ a lemon)

1 1/2

tsp

dried oregano

1

tsp

minced fresh thyme leaves

(optional, see note below)

2

tsp

kosher salt

(1 tsp for the marinade plus 1/4 tsp per chicken breast. Add more if needed.)

Freshly ground black pepper

(2-3 turns per breast)

1

lemon

(see my note below in step 4)
Instructions
Preheat the oven to 375 degrees F. 

Warm the olive oil in a small saucepan over medium-low heat. Add the garlic and cook for about 1 minute without allowing the garlic to turn brown. I suggest you test with a few grains of garlic first before adding the rest. You don't want the oil to be too hot so that it browns the garlic. If too hot, remove from heat let cool down.

Remove the saucepan off the heat, add the white wine, lemon zest, lemon juice, oregano, thyme, and 1 teaspoon salt. Pour into a baking dish or a baking pan.

Pat the chicken breasts dry and place them skin side up over the sauce. Brush the chicken breasts with olive oil and sprinkle with salt and pepper. Cut the lemon into 8 wedges and place between chicken breasts.

Bake for 35 to 45 minutes, depending on the size of the chicken breasts, until the internal temperature reaches 160F. By this time the skin should be slightly browned. If you want crispier skin and more browning, put the baking dish under the broiler for 2 minutes a few minutes before the chicken breasts are done.

Remove from the oven and let the meat rest for 5 minutes. Serve hot with the pan juices.
Nutrition
Calories:
459
kcal
|
Carbohydrates:
3
g
|
Protein:
38
g
|
Fat:
30
g
|
Saturated Fat:
6
g
|
Cholesterol:
115
mg
|
Sodium:
1279
mg
|
Potassium:
436
mg
|
Vitamin A:
150
IU
|
Vitamin C:
7
mg
|
Calcium:
37
mg
|
Iron:
1.7
mg