It's hard to beat pan-fried chicken as a quick and delicious meal on a busy weeknight. Unlike chicken breasts, chicken thighs take pan-frying really well and don't overcook and dry out that easily. Here is a great recipe for pan-fried chicken with okra and blackberries that packs a ton of flavor and taste exceptionally well. The best part is that it takes less than 30 minutes to prepare this dish from start to finish.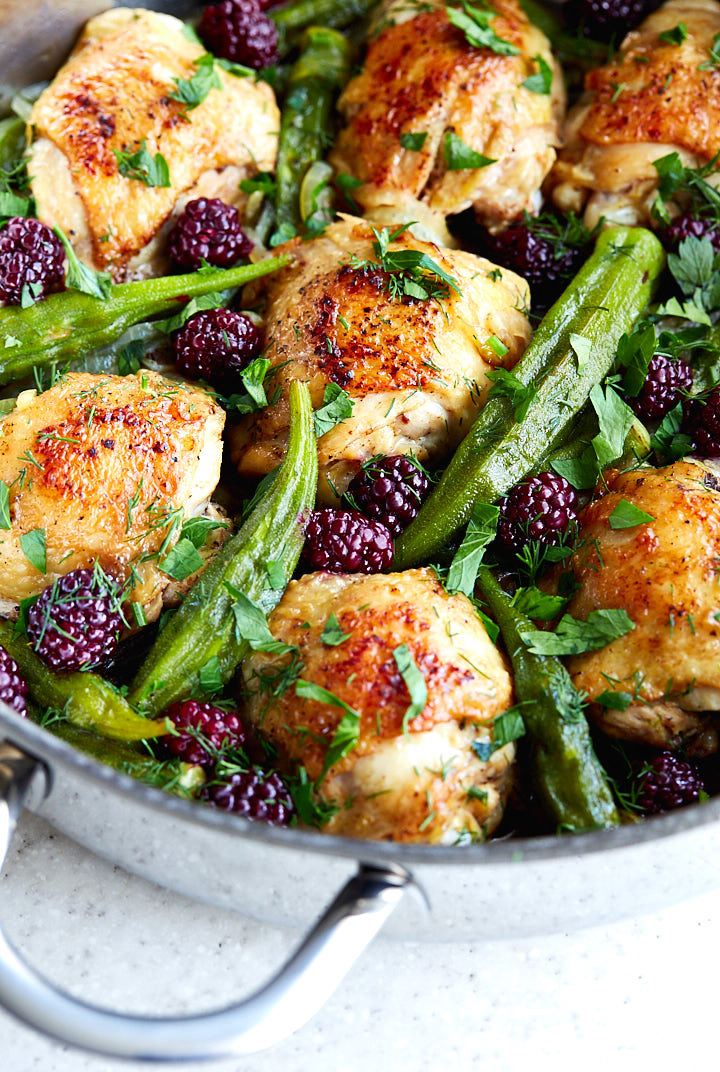 This dish originates from Armenia and is called 'moshambuir tapaka'.  If you've been reading my blog long enough, you know I am a big fan of the Caucasian dishes. Many of them are very simple yet very flavorful, and tend to use a lot of vegetables, nuts and herbs.
Traditionally, you can use any part of the chicken in this dish. In fact, a typical 'moshambuir tapaka' would use a whole young chicken cut into pieces. But I guarantee you that you will get the best results when using chicken thighs. Besides, chicken breasts, thighs and legs cook very differently so it's always best to cook them separately.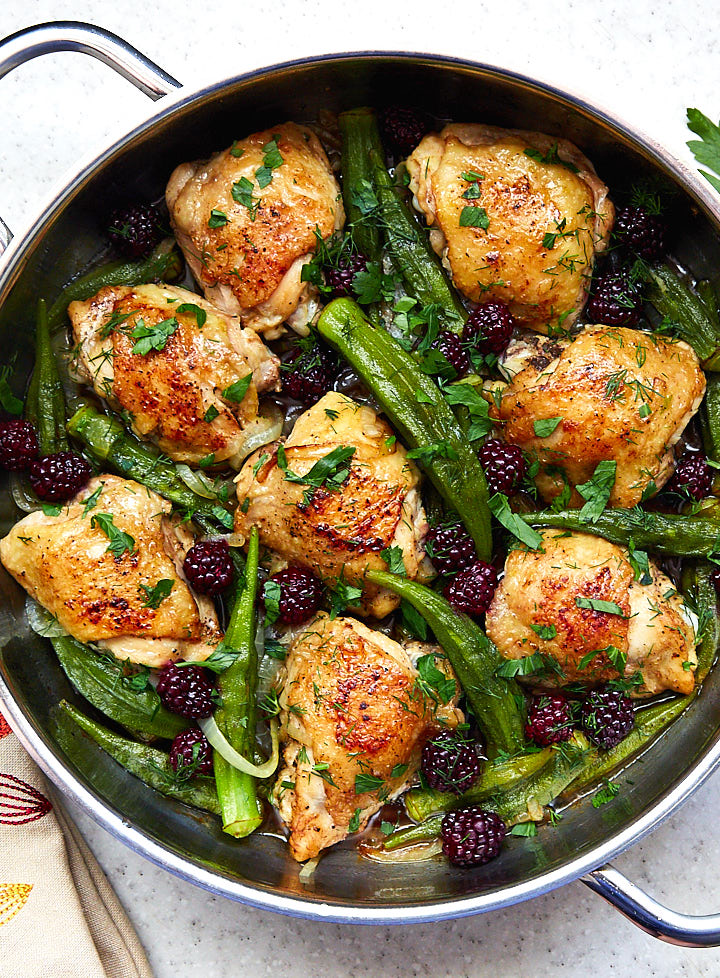 Okra is not something I use in my cooking, for no good reason that I can think of.  When I came across this recipe in an Armenian cookbook I got quite excited about the opportunity to use okra.
The original recipe was extremely concise and so not too clear on when to add okra or how long to fry it. To make sure I cook it right, I referenced this guide on how to cook okra so it's not slimy, which was very informative. I enriched the instructions to the recipe based on the information from the guide.
I found the dish to be quite exceptional. The okra tasted very well, didn't come out slimy, and really complemented the chicken thighs. The addition of blackberries was unusual but I kept an open mind. Surprisingly, the blackberries fit right in and enhanced the overall flavor profile. I can say that all of the ingredients work so well together that if one component wasn't there you would immediately notice it.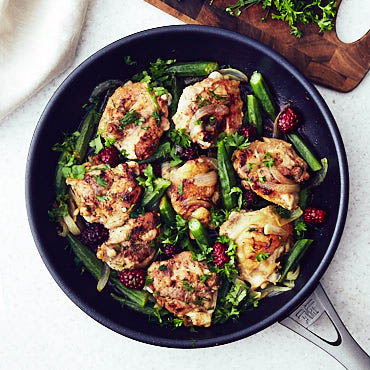 Ingredients
8

skin-on, bone-in chicken thighs

1

onions

medium, sliced into 1/4" - 3/8" pieces

16

fresh okra pods

stems cut off

20

blackberries

less ripe, firm berries are preferred

1

Tbsp

each fresh chopped dill, parsley and coriander

2

Tbsp

butter

Salt to taste

Ground black pepper to taste
Instructions
Preheat 2 tablespoons of butter in large skillet over medium-high heat. Sprinkle the chicken thighs with salt and pepper and sear for 1 minute per side.

Lower the heat to medum-low, add the onions and the okra, cover and continue cooking for about 15-20 minutes, until the chicken thighs register 180F and the okra is nicely tender. Flip the chicken thighs half way through frying. Be careful not to break the okra pods.

Add the blackberries 5 minutes before the cooking is done.

Top with the freshly chopped dill, parsley and coriander, and serve immediately.
Notes
If you are not into okra you can always substitute your favorite in-season vegetable. Zucchini, green beans or eggplant work well in this recipe, too.
To ensure that okra doesn't come out slimy, don't cut it into pieces. You should only remove the stems.
Also, don't wash okra until right before cooking. This will also help prevent sliminess.
Nutrition
Calories:
715
kcal
|
Carbohydrates:
8
g
|
Protein:
48
g
|
Fat:
54
g
|
Saturated Fat:
17
g
|
Cholesterol:
298
mg
|
Sodium:
278
mg
|
Potassium:
792
mg
|
Fiber:
3
g
|
Sugar:
2
g
|
Vitamin A:
768
IU
|
Vitamin C:
15
mg
|
Calcium:
72
mg
|
Iron:
2
mg