This chicken lentil soup, to me, sort of represents the best of both worlds - it's delicious, comforting and satisfying yet it feels light. I could totally eat it a couple of times a week. Well, I think I could eat it every day, it's really, really good. I'd say it's way up there with my all-time favorite mulligatawny soup. It's also very easy and fairly quick to make.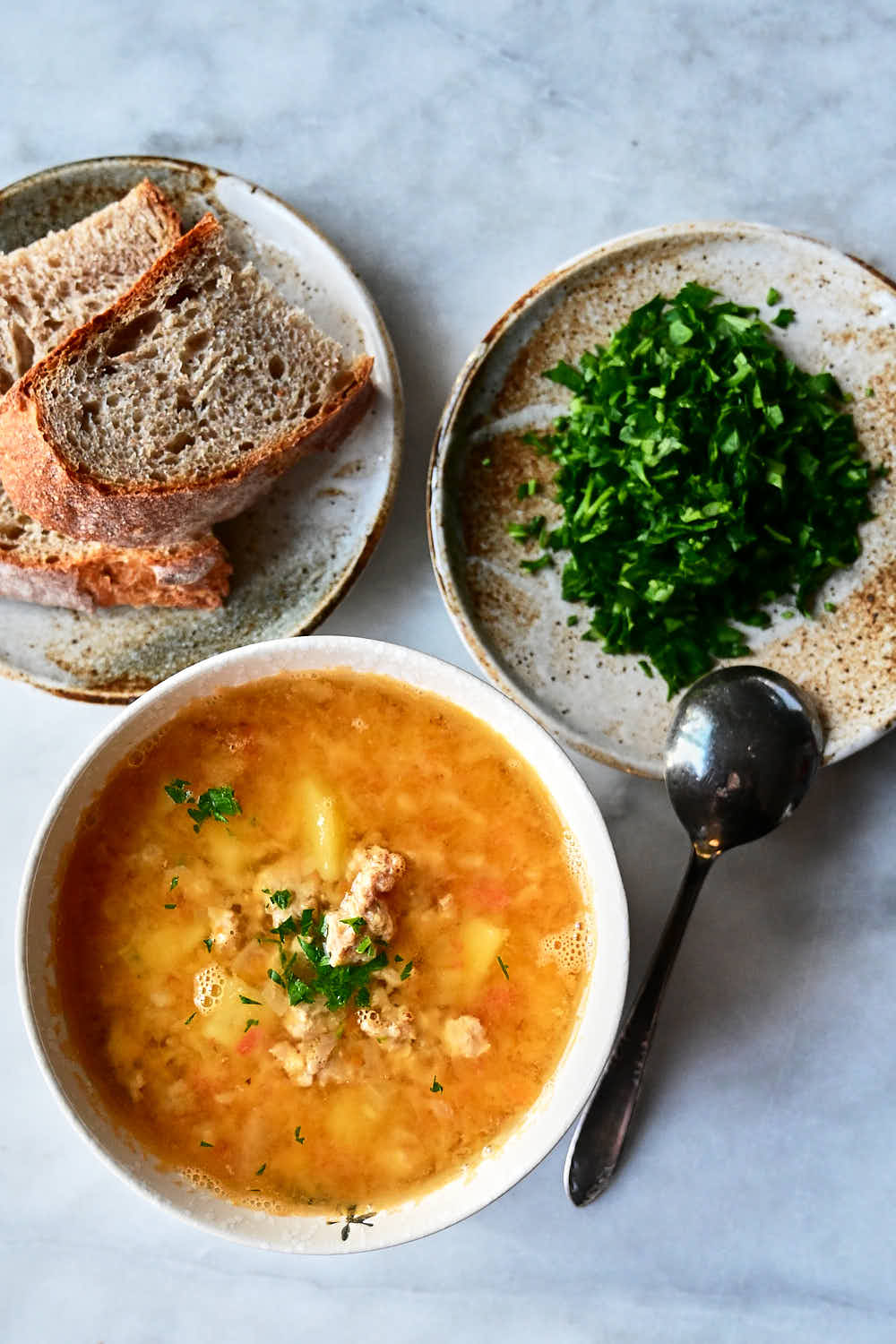 To make this soup you will need chicken or vegetable broth, red lentils, potatoes, onion, garlic, tomatoes, salt, pepper and, obviously, chicken. I've tried chunks of chicken and ground chicken and have always come back to ground chicken. I just love the texture of ground chicken in this soup.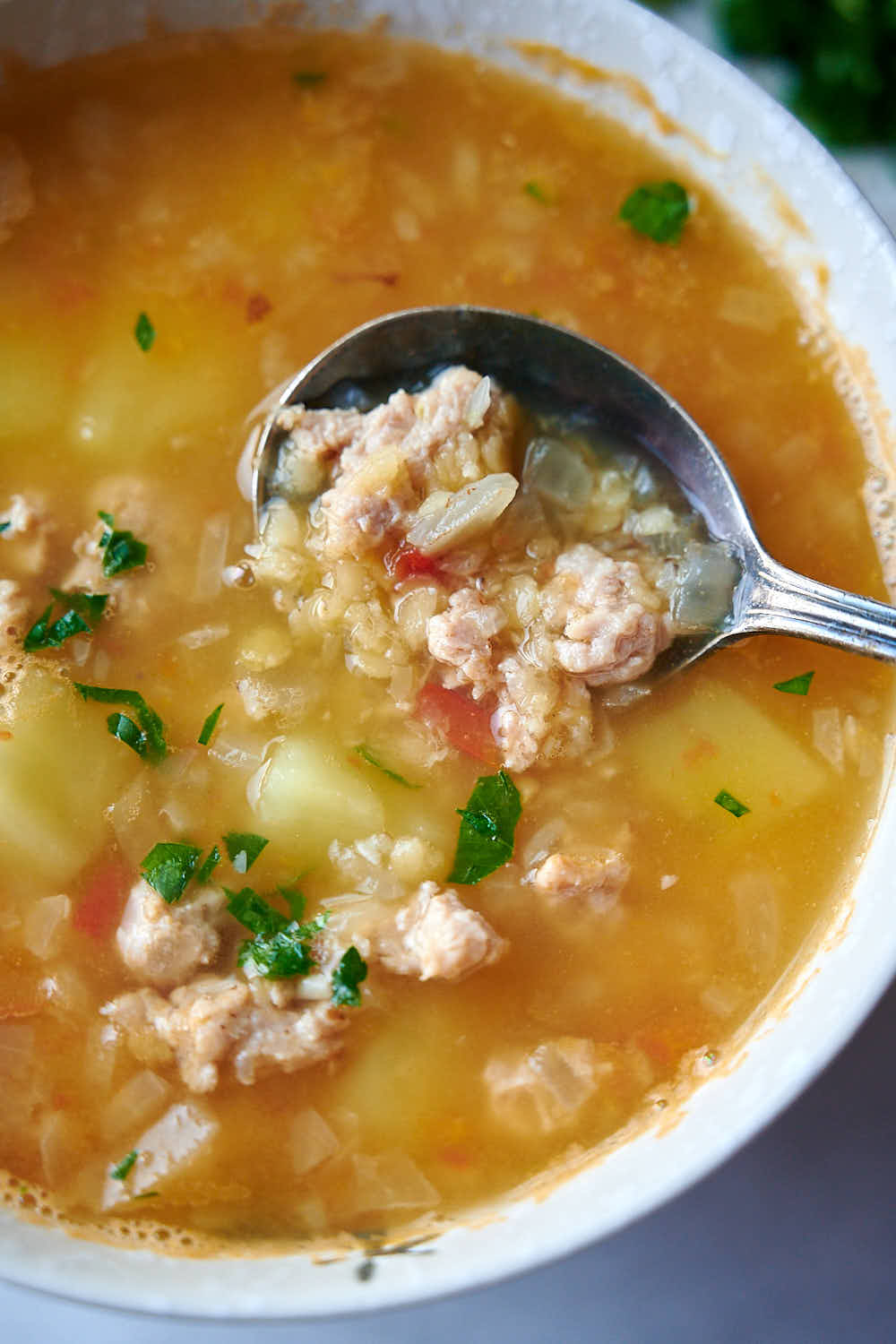 If you are going to grind your own chicken, you have the option of using dark or white chicken meat. White chicken meat is leaner and healthier but dark chicken meat definitely makes the soup tastier. You can add some skins and chicken fat to make the soup heartier, but go easy on them. To grind the meat, I use the 3/16" (4.5 mm) grinder plate. 1/4" or 6 mm plate will work too.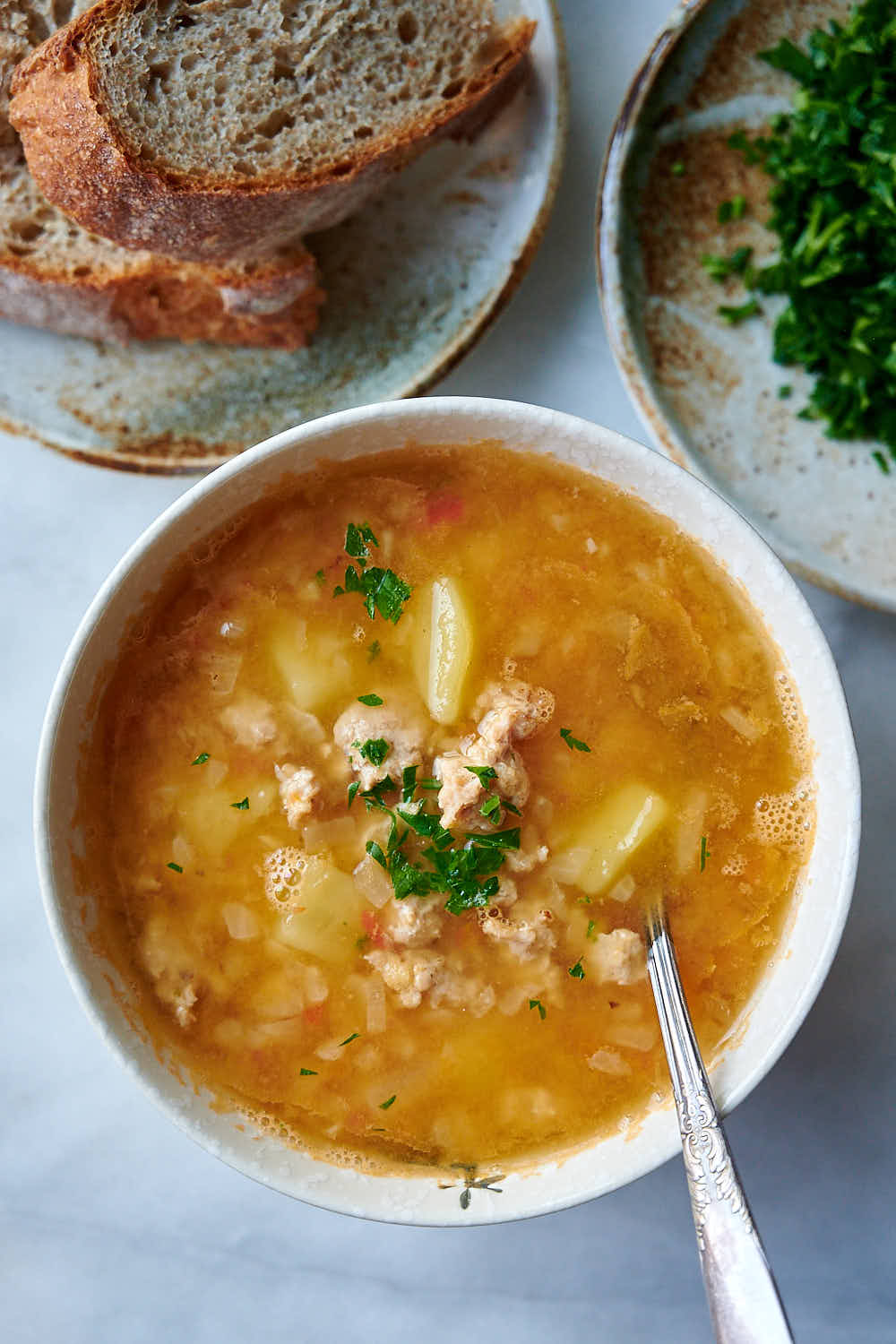 Serve with chopped fresh parsley or cilantro and a few slices of crusty sourdough bread.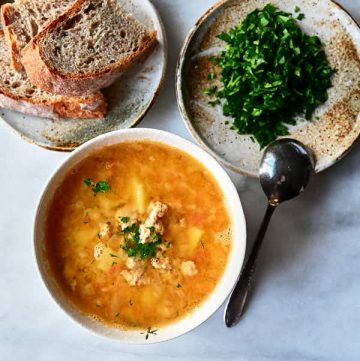 Ingredients
1/2

lb

ground chicken

1

cup

dried red lentils

1

onion

3

cloves

garlic

2

medium potatoes

1

medium tomato

2

qt

low salt chicken broth

salt

to taste

black pepper

to taste

2

Tbsp

olive oil
Instructions
Heat the oil in a large skillet. Add the onion and the garlic and saute over medium-low heat for about 10 minutes.

While sauteing the onions and garlic, in a large pot, bring the broth to a boil. Add the lentils and the diced potatoes, wait until the liquid in the pot begins to boil again, turn the heat down to medium and cook for 10-15 minutes.

Meanwhile, add the ground chicken to the onions and garlic and cook over medium heat for 8-10 minutes, breaking up large clumps of chicken meat.

Transfer the onion, garlic and chicken mixture to the pot.

Add the tomato and stir. Then, add salt and pepper to taste.

Continue cooking over medium heat for another 10-15 minutes.

Serve hot, garnished with chopped fresh parsley or cilantro and slices of sourdough bread.
Nutrition
Calories:
479
kcal
|
Carbohydrates:
56
g
|
Protein:
34
g
|
Fat:
15
g
|
Saturated Fat:
3
g
|
Polyunsaturated Fat:
2
g
|
Monounsaturated Fat:
9
g
|
Trans Fat:
1
g
|
Cholesterol:
49
mg
|
Sodium:
188
mg
|
Potassium:
1703
mg
|
Fiber:
17
g
|
Sugar:
4
g
|
Vitamin A:
277
IU
|
Vitamin C:
30
mg
|
Calcium:
74
mg
|
Iron:
6
mg