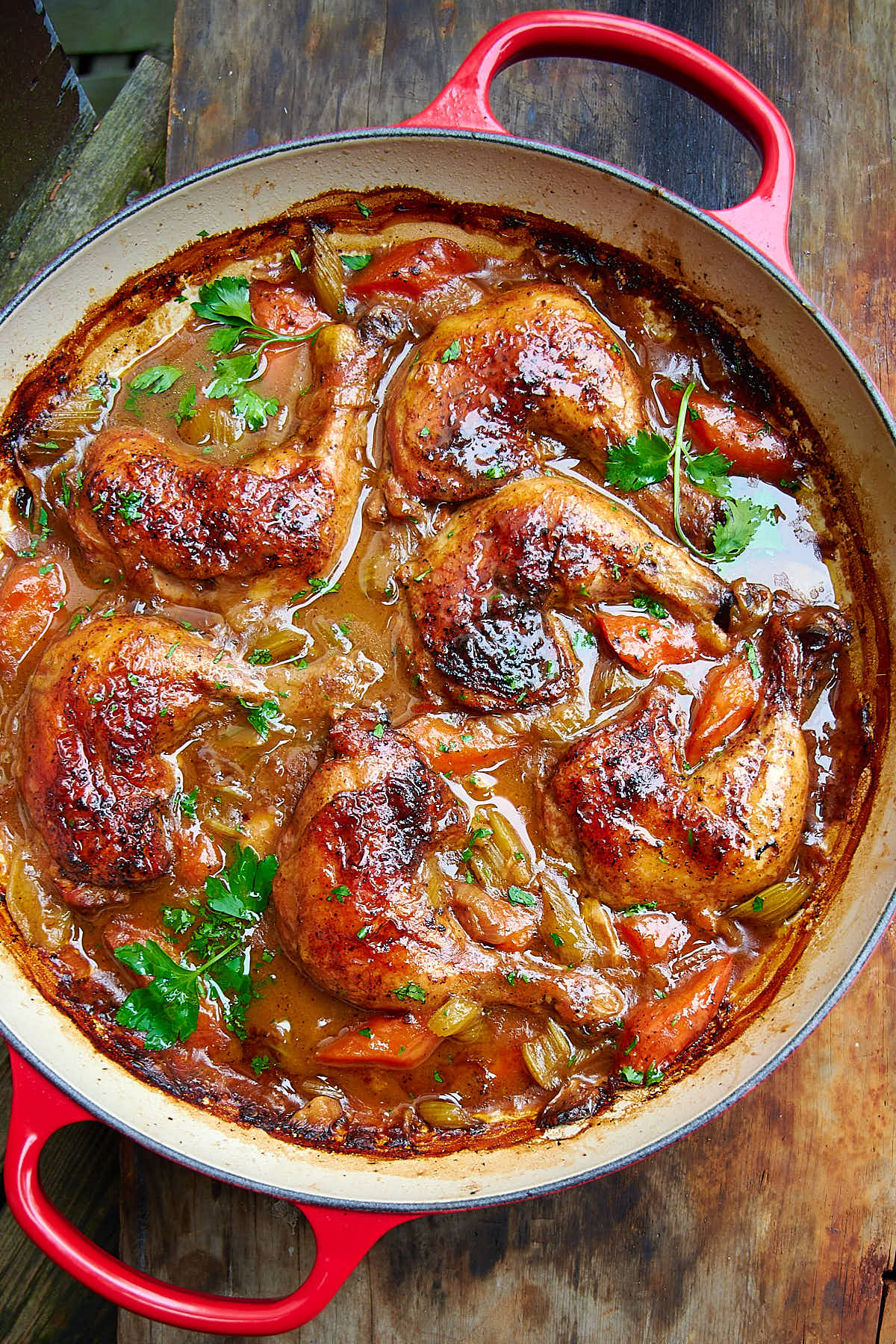 Sweet carrots and onions, earthy celery and savory garlic are very simple ingredients that give this dish of braised chicken a magical flavor. A big part of the final flavor profile is browning of chicken prior to braising. Caramelized skin not only adds a ton of flavor, but also gives the dish its appealing color.
This braised chicken is very simple and rustic yet very flavorful and exceptionally tasty. It's hard to mess it up and even novice cooks will have a lot of success making it. You can use different parts of chicken to make it, and even chicken breasts won't taste dry and chalky. However, dark meat is the best choice here. This recipe, in many ways, resembles my highly popular Rustic Slow Cooker Chicken. However, braising adds a new dimension to chicken taste and you will notice the difference immediately. If I were to take sides here, braised chicken wins without much doubt.
Importance of using a proper braising cookware
It goes without saying, but to make braised chicken you must use a good quality braiser. Speaking from own experience, a baking pan covered with foil won't suffice. Braisers are designed to cook food evenly from the bottom and the top, and to release just enough steam during cooking. There is a general consensus that copper braisers are best,  but they are expensive. A relatively inexpensive cast iron braiser will do the job with aplomb.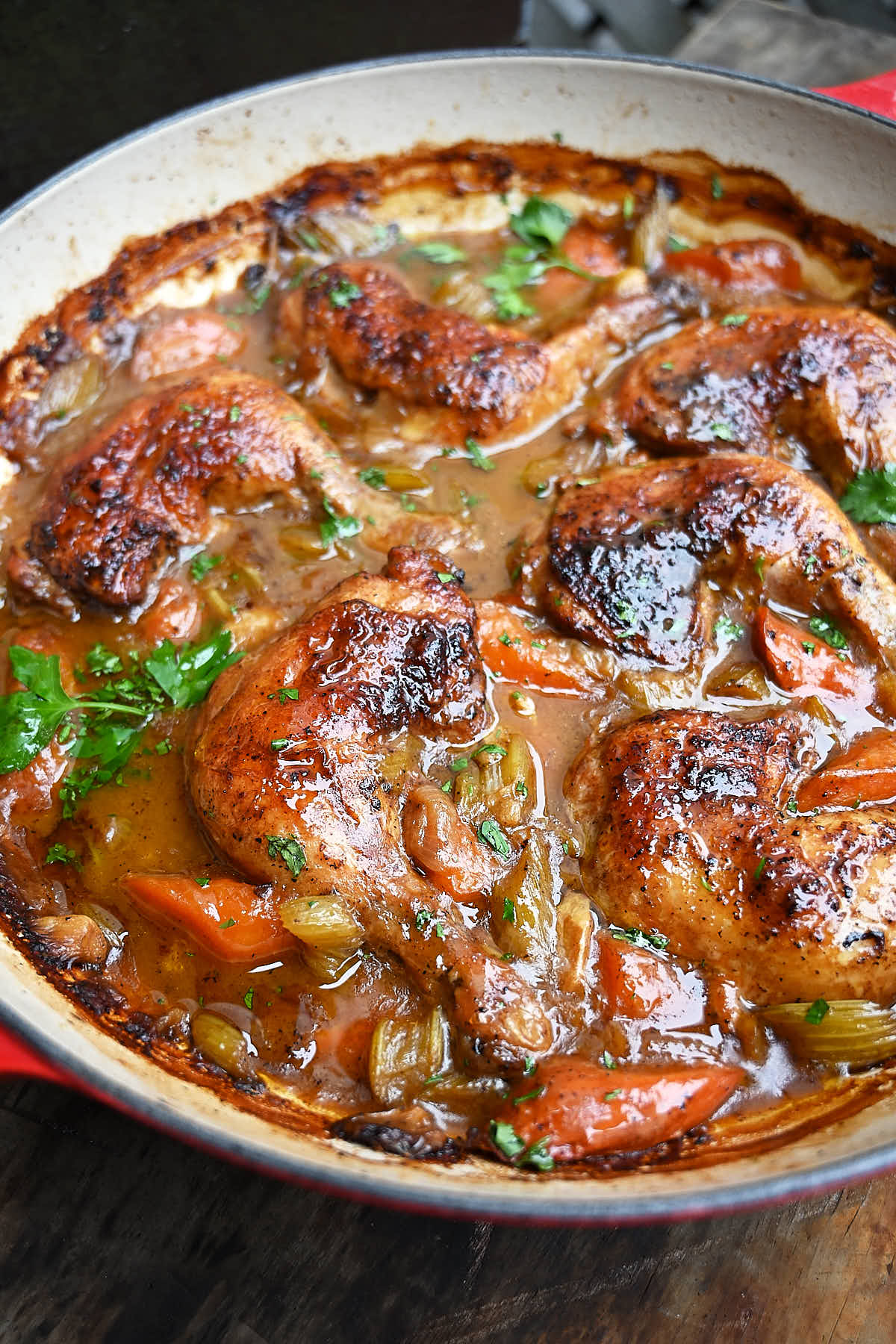 Taking it a step further
After browning the chicken, take it out and add the vegetables to the braiser. Giving the vegetables a quick sear will add even more flavor and enhance the taste of the braised chicken. But don't stop there. Once the vegetables are soft and slightly caramelized, add some butter and flour and make a roux. The nutty flavor of flour browned in butter will add another layer of flavor. The roux will thicken the liquids in the braiser, resulting in a tasty, luscious gravy that will go so well with the chicken.
Braising takes time so don't rush it. While the chicken will be perfectly cooked after an hour or so of cooking, it will taste best after spending two and half to three hours in the oven. The meat will be fall-off-the-bone tender and succulent.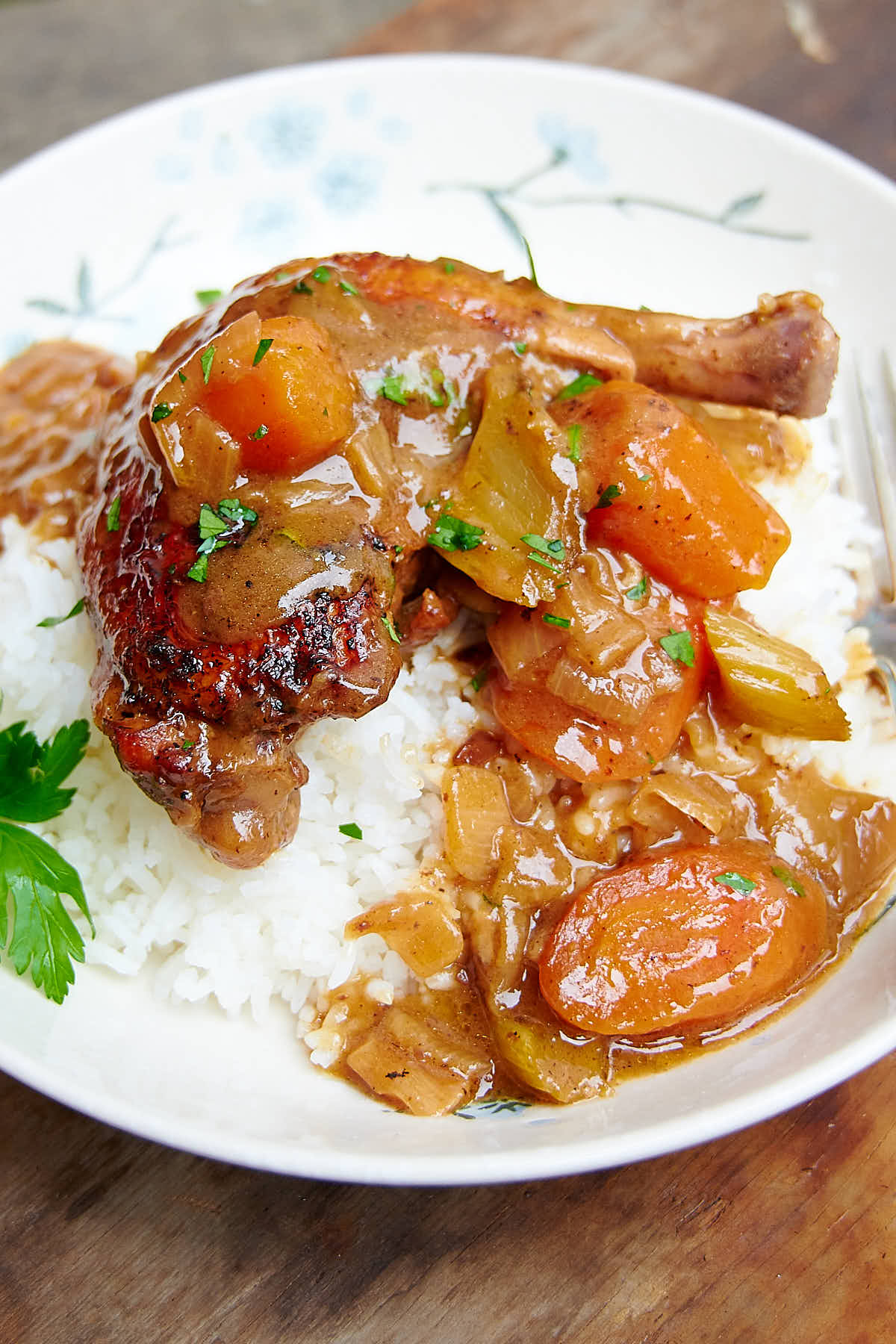 Serving braised chicken
Braised chicken can be served with a variety of side dishes but try it with a bowl of white jasmine rice. The two go exceptionally well together.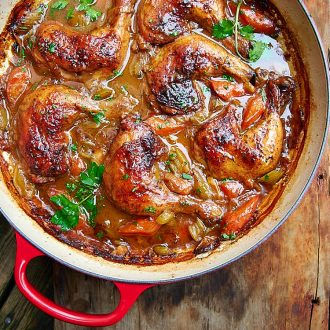 Braised Chicken Recipe
Rustic braised chicken recipe with sweet carrots and onions, earthy celery and savory garlic.
Print
Pin
Rate
Ingredients
6

chicken quarters

(or substitute with chicken drumsticks, thighs or breasts)

Salt and pepper

(to taste)

Garlic powder

(to taste)

Onion powder

(to taste)

4

Tbsp

butter

2

Tbsp

olive oil

2

yellow onions

(cut into 1/2" slices)

3

carrots

(cut into 1" pieces)

3

stalks

celery

(cut into 1/2" pieces)

6

cloves

garlic

(roughly sliced)

1/4

cup

all-purpose flour

3

cups

chicken broth

2

Tbsp

red wine vinegar

2

Tbsp

parsley

(chopped, for garnish)
Instructions
Season the chicken with salt, pepper, garlic and onion powder. Set aside.

Heat two tablespoons of butter and two tablespoons of olive oil in a braiser over medium heat. Add the chicken, cover and let sear for 3-4 minutes, or until the chicken is nicely browned. Flip, cover and continue searing for another 3-4 minutes. Remove the chicken from the braiser and set aside.

Add the onions, celery and carrots to the braiser. Bump the temperature up to medium high and cook, stirring, for about 5 minutes, until the vegetables are slightly caramelized and softened. Add the garlic and cook for about 30 seconds more.

Add the remaining butter to the braiser and let it melt. Add the flour and mix really well, ensuring no clumps remain. Cook, stirring until the flour turns brown and acquires nutty aroma.

Pour in the broth and stir well. Turn off the heat. Taste and adjust the seasonings. Stir in the red wine vinegar. Add the chicken back, nestling the pieces inside the vegetable mix.

Cover the braiser and transfer to an oven preheated to 350 F. Braise for 2 1/2 to 3 hours.

Remove the chicken from the oven and serve hot with jasmine rice or any other side dish of choice. Give the sauce/gravy a stir before pouring over chicken. Garnish with chopped parsley.
Nutrition
Calories:
486
kcal
|
Carbohydrates:
12
g
|
Protein:
25
g
|
Fat:
36
g
|
Saturated Fat:
12
g
|
Cholesterol:
161
mg
|
Sodium:
648
mg
|
Potassium:
605
mg
|
Fiber:
2
g
|
Sugar:
3
g
|
Vitamin A:
5535
IU
|
Vitamin C:
14.3
mg
|
Calcium:
53
mg
|
Iron:
1.7
mg