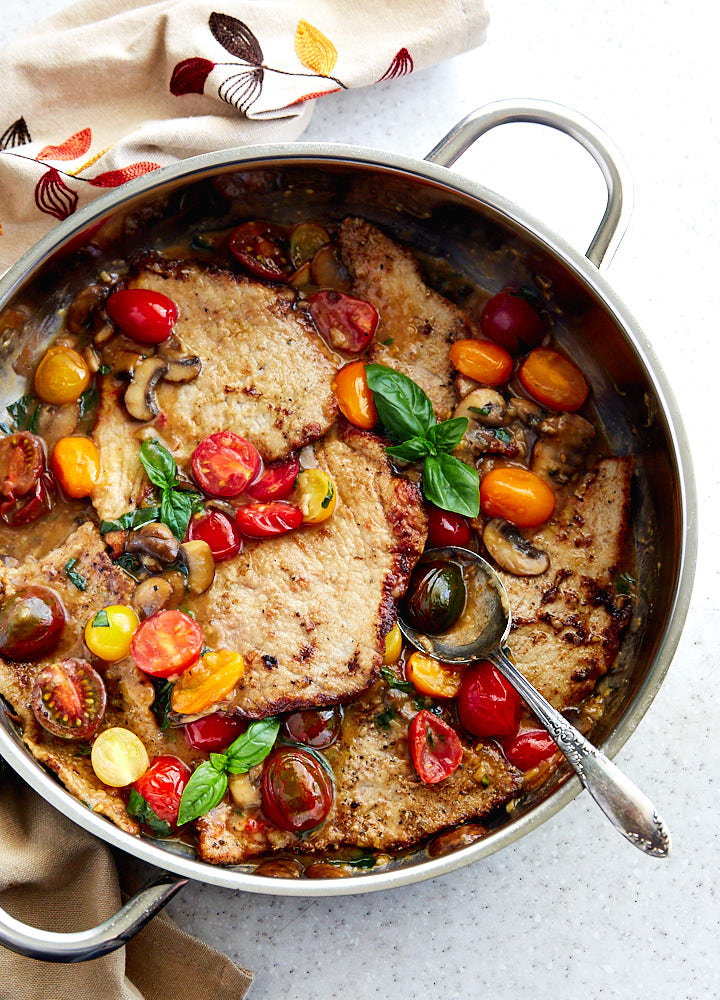 Tender and delicate veal scallopini served with delicious, creamy mushroom, Italian herb and wine sauce. Add some heirloom tomatoes for more flavor and serve with your favorite side dish. The sauce alone will knock your socks off! A definite must try!
When I am looking to make a quick, tasty and healthy dinner, I turn to chicken breasts. I suppose that's what most of us do. I also like chicken alternatives, like pan-fried pork chops that can be prepared in a matter of minutes, or salmon piccata. Another dish in my arsenal that fits the bill is veal scallopini. I don't make it as frequently as I could, but when I do, everyone loves it and asks for seconds.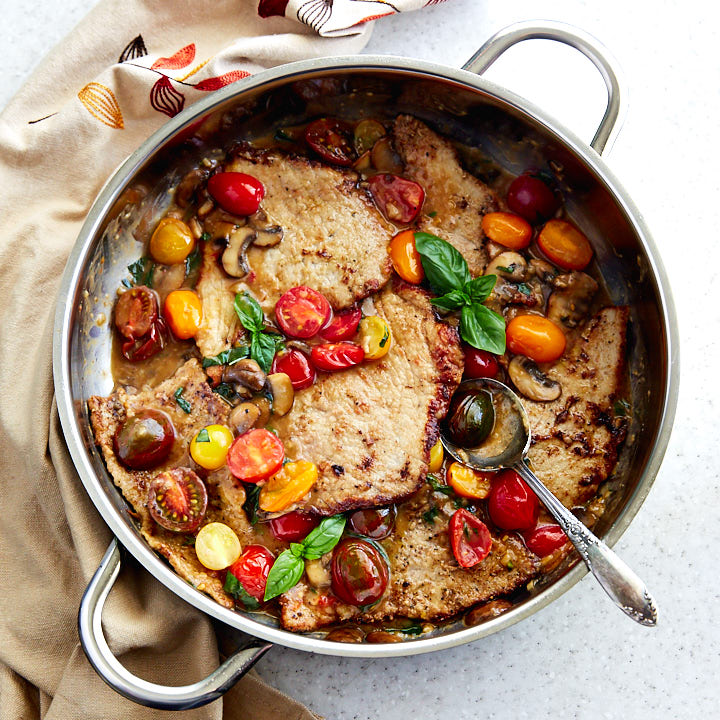 Veal scallopini is a type of Italian dish that comes in many forms. It typically consists of thinly sliced veal that is dredged in wheat flour and sautéed in one of a variety of redux sauces.
In Italy, every home has it's own veal scallopini recipe. Just like in any other country, every home has it's own version of a traditional dish. I like my veal scallopini covered with a thick and creamy mushroom sauce. Perhaps creamy sauce is not an Italian thing, but it's so good that it literally gets licked off the plates.
I also like my scallopini to get a burst of flavor from ingredients like tomatoes, white wine, garlic, capers, fresh basil and oregano. Now, this is an Italian thing! I love how their dishes are so simple yet so flavorful and exciting.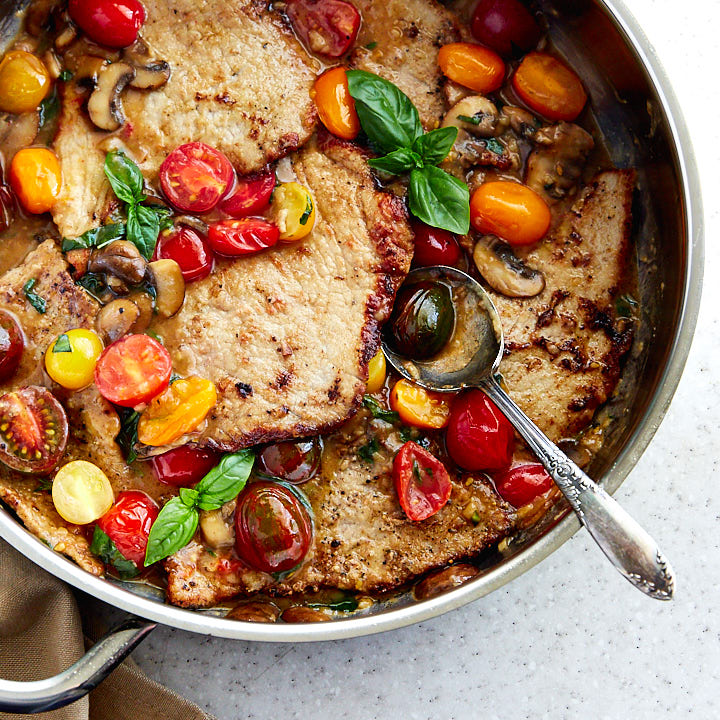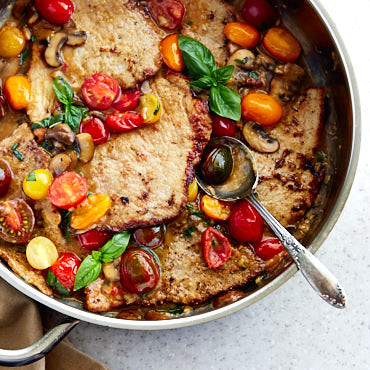 Ingredients
6-8

veal cutlets about 1/8" thick

About 1/4 cup all-purpose flour

for dredging and thickening the sauce

Salt and pepper to taste

1

cup

chicken broth

4

Tbsp

butter

4

Tbsp

olive oil

1

cup

white wine

Cavit Collection Pinot Grigio is my favorite here

1

Tbsp

lemon juice

2

cups

thinly sliced mushrooms

2

Tbsp

chopped fresh basil or oregano

or a combination, plus whole leaves for garnish

1

large garlic clove

pressed

1-2

cups

cherry tomatoes

halved

2

Tbsp

brined capers

rinsed
Instructions
Sprinkle each veal cutlet with salt and pepper. Gently pat down to make the seasoning stick. Dredge each cutlet in flower and set aside. Another frequently used method is to combine 2 tablespoons of flour with salt and pepper in a Ziploc bag, add veal scallopini, seal and shake until the meat is evenly covered with flour and seasoning. I find that the Ziploc method does not produce a very even seasoning distribution, so I prefer to season and dredge each cutlet individually.

Heat a large non-stick pan over high heat with olive oil, until the oil shimmers. Cook veal cutlets, 3-4 at a time, turning once, until browned and just cooked through, about 1 minute per side. Transfer scallopini to a separate plate and keep warm.

In the same skillet, add the butter and heat until starts to simmer. Add the mushrooms and garlic and saute for 2-3 minutes, until tender. Stir in 2 tablespoons of flour and keep stirring until well incorporated. Add the chicken broth, lemon juice, capers and white wine and bring to simmer, stirring and scraping any brown bits from the bottom. Continue cooking until the sauce has thickened a little. A couple of minutes will suffice. Don't make it too thick. Taste for salt and adjust, if needed. Add the tomatoes and the chopped basil, and continue sauteing for about a minute, until the tomatoes slightly softened up.

Remove the pan from the heat. Add the veal scallopini back to the pan and spoon the sauce with mushrooms and tomatoes over the meat.This will help bring the veal scallopini back to target temperature. Serve immediately with your favorite side dish.