This beef stew made in Instant Pot is every bit as delicious and flavorful as the one made using a traditional cooking method, only much faster. The beef is very tender, as are the vegetables. The liquid is thick and velvety, right out of the pot, and there is no need to thicken it after cooking. This stew is very easy to make and hard to mess up.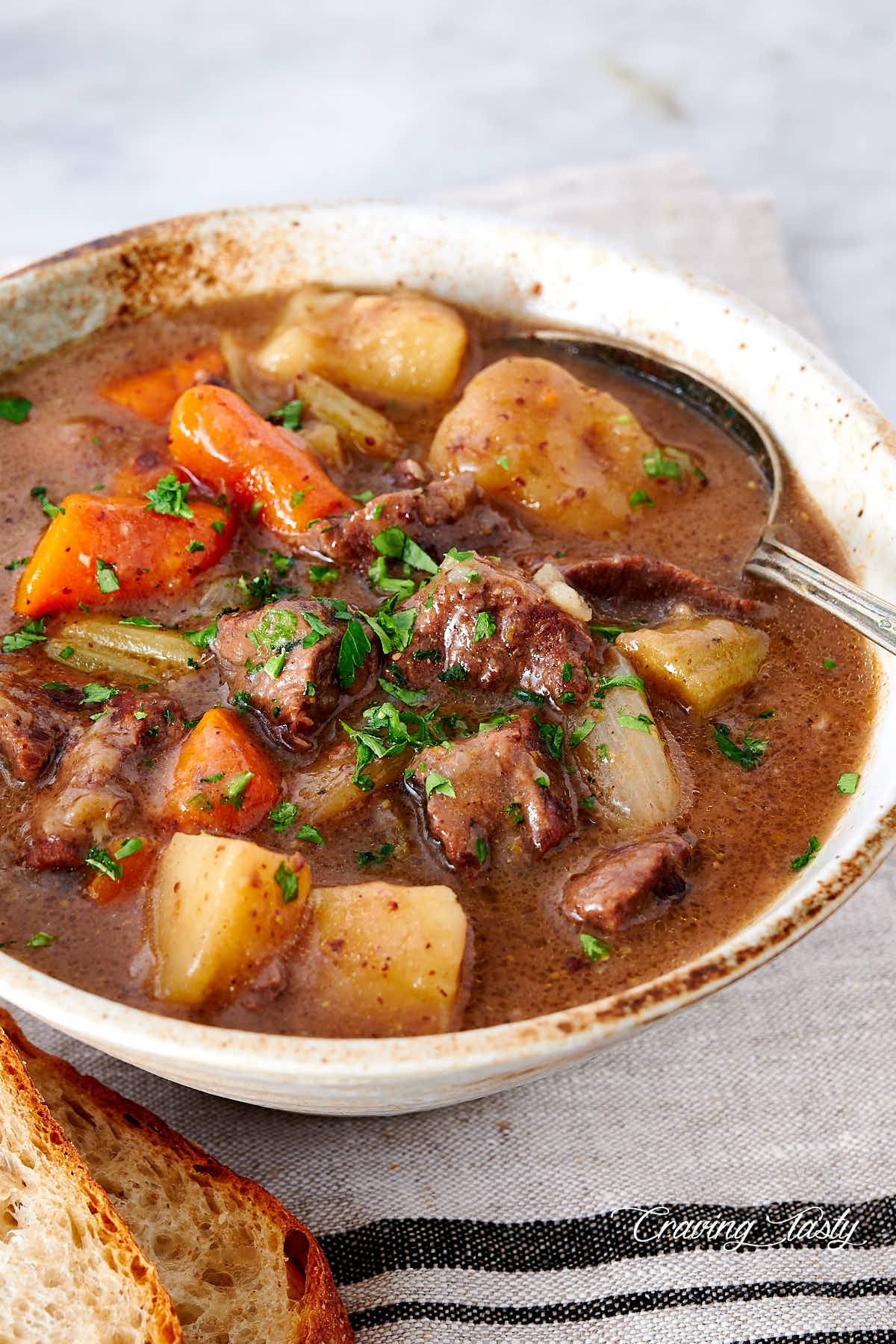 I used to find food made in Instant Pot bland and having a poor texture. That was primarily because in all of my recipes I would add water or some sort of thin liquid, as was instructed in the recipes that I followed. That was a mistake. Surely, you can thicken the liquids after cooking but all that extra stirring just messes up the delicately textured, softened up vegetables.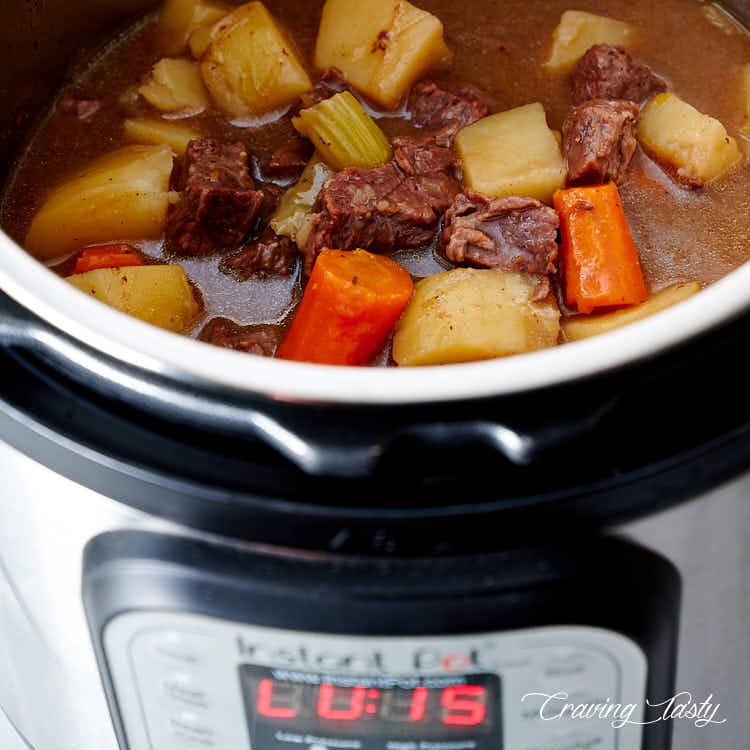 But I found a solution. Instead, I started adding almost gravy-like liquids to my meats and veggies, and it worked very well. In this recipe, I add a 1/4 cup of flour to 2 cups of beef broth to create a tasty, gravy-like sauce for the beef and the vegetables to pressure cook in. When I want an even thicker sauce, I add a 1/3 cup of flour, it works very well too.
To give the dish the maximum flavor, I first sear the beef, then saute the vegetables with some butter and olive oil, adding the flour at the end, and browning it a little. This adds more flavor and prevents the flour from clumping up when adding the broth. This also creates a delicious, velvety gravy. I use the same technique to make braised chicken, braised beef and other dishes.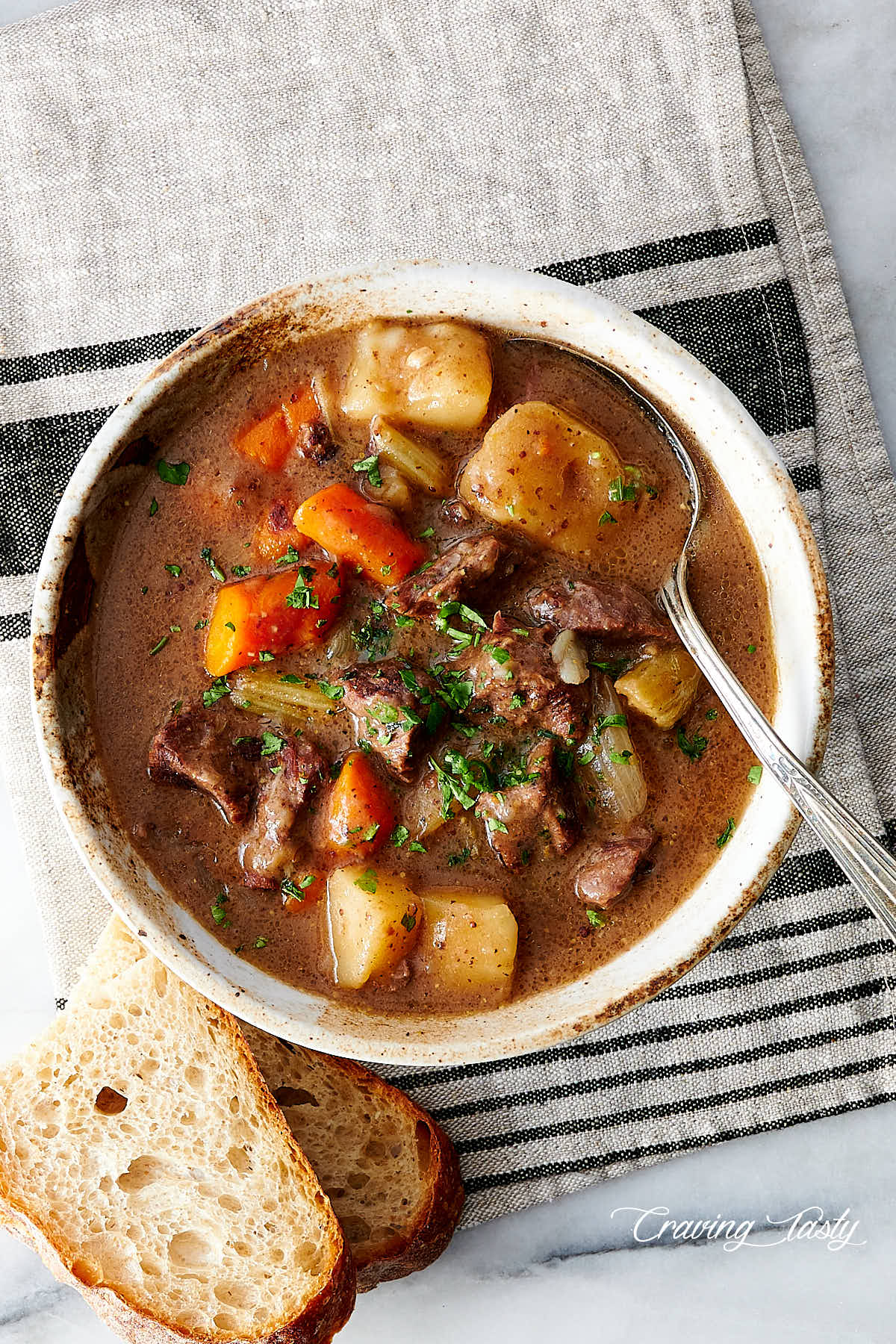 Out of the pot, after only 25 minutes of cooking, the beef stew is ready to eat. There is no need to thicken the liquid. Just give it a gentle stir, ladle into a bowl and enjoy.
Tips, tricks and variations
Cutting the beef and the vegetables to the right size ensures that both cook properly and that the vegetables retain their definition. I keep it simple and cut the meat and veggies into 1-inch pieces, which works perfectly well in this recipe.
I made mustard optional in this recipe as I find that some people like it and some don't. This stew is excellent and very flavorful without it, but if you like mustard, you will appreciate the added flavor.
Try adding leeks. They have a tender texture and add a mild, onion-like taste.
If you like cloves, substitute nutmeg for a small pinch of ground cloves. I like its pungent and sweet flavor. It adds warms and a sensation in the mouth similar to that of nutmeg.
If you like your beef stew thicker, increase the flour to 1/3 cup. It will give the sauce a gravy-like consistency.
Serve with crusty bread, like sourdough rye bread, or whole wheat sourdough bread.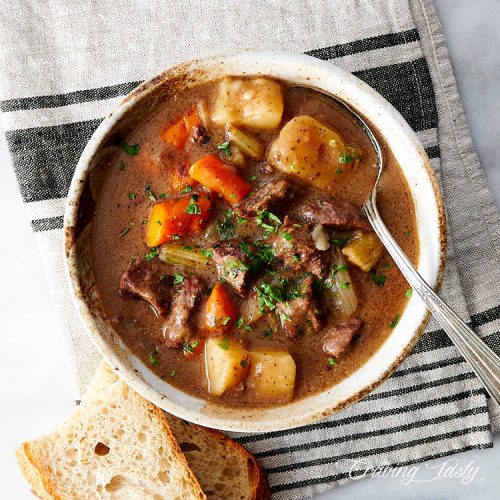 Ingredients
2

lbs

beef chuck

fat and sinew trimmed off, cut into 1-inch pieces

4

Tbsp

olive oil

2

Tbsp

unsalted butter

1/4

cup

all-purpose flour

increase to 1/3 cup for a thicker consistency
Vegetables
3

small onions

or shallots, quartered

2

red potatoes

large, cut into 1-inch pieces

3

carrots

medium, cut into 1-inch pieces

2

ribs

celery

cut into 1-inch pieces

3

cloves

garlic

thinly sliced
Liquid ingredients
2

cups

beef broth

or two cups of water and one beef bouillon cube

1

Tbsp

Worcestershire sauce
Seasonings
1/4

tsp

thyme

dried, ground; or 1 tsp minced fresh thyme

1/4

tsp

nutmeg

freshly grated; if using pre-ground (very fine), add just a pinch (1/8 tsp)

1/4

tsp

black pepper

or to taste

1/2

tsp

kosher salt

or to taste

1/8

tsp

brown sugar

1

Tbsp

Dijon mustard

optional, add if you like it; you may also use Creole mustard, spicy brown mustard or yellow mustard
Garnish
1/4

bunch

fresh parsley

minced
Instructions
Set Instant Pot to sauté, add one tablespoon of butter and two tablespoons of olive oil, and wait until the butter begins to foam.

Add half the beef and let sear, undisturbed, until browned, about 2 minutes. Stir and flip the pieces, and sear for another 2 minutes. Remove the first batch from the pot and repeat with the other half of the beef. Set the seared beef aside.

Add the remaining butter and olive oil, and all of the vegetables (except the potatoes) to the Instant Pot. Cook for about 3-5 minutes, constantly stirring, until the vegetables soften up.

Sprinkle the flour over the vegetables and saute, constantly stirring, for about 1 minute, until the flour browns a little and acquires a nutty flavor.

Add the broth and the Worcestershire sauce and stir really well. Scrape the brown bits stuck to the bottom of the pot. Add the seasonings and stir well. Taste for salt and pepper and adjust if needed. Bring the mixture to a boil and keep stirring until the mixture thickens a little, about a minute.

Return the beef back to the pot, add the potatoes and give the contents a good stir.

Cover the pressure cooker and make sure the pressure valve is sealed. Set for MANUAL, HIGH pressure for 25 minutes cook time.

When the pressure cook time is up, let the pressure cooker naturally release for 10-12 minutes. After 10-12 minutes, open the valve completely to quickly release all the remaining pressure.

Serve the beef stew right away, garnished with chopped parsley.
Nutrition
Calories:
544
kcal
|
Carbohydrates:
34
g
|
Protein:
34
g
|
Fat:
31
g
|
Saturated Fat:
11
g
|
Cholesterol:
114
mg
|
Sodium:
730
mg
|
Potassium:
1247
mg
|
Fiber:
4
g
|
Sugar:
11
g
|
Vitamin A:
5492
IU
|
Vitamin C:
20
mg
|
Calcium:
95
mg
|
Iron:
5
mg