Stuffed zucchini boats are so versatile that there are literally dozens, if not hundreds, of great recipes for making them. My favorite? Bacon-wrapped zucchini boats with cream cheese mixed into the stuffing. Just imagine tender, moist and creamy stuffing enveloped into crispy, smoky goodness that is roasted bacon.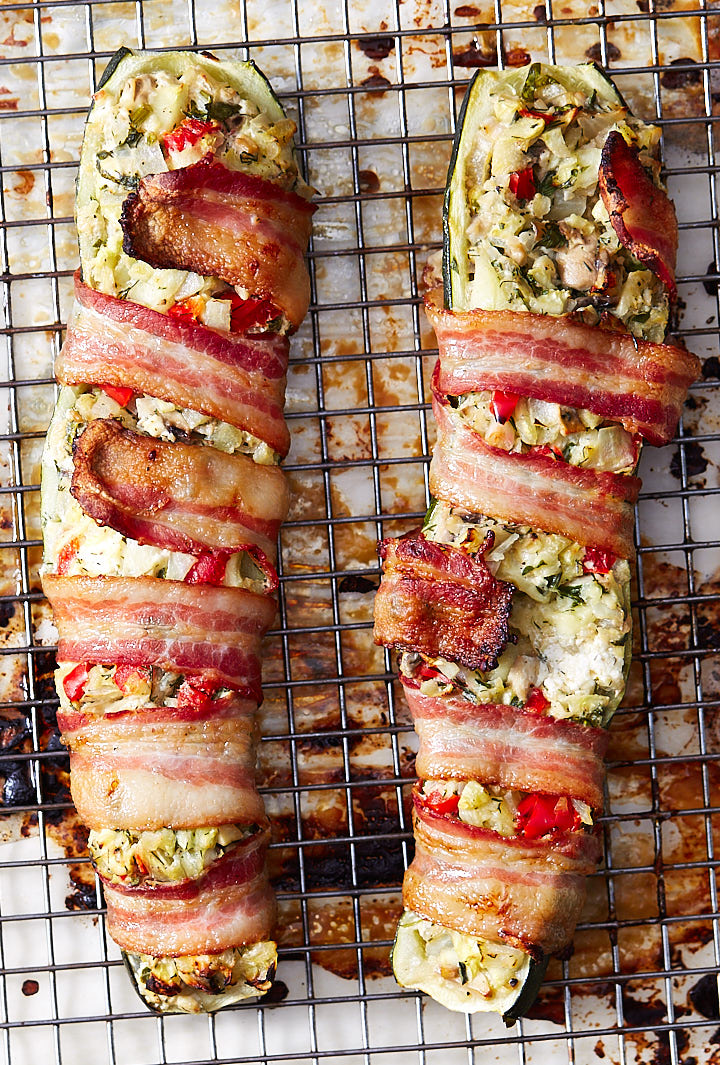 Yes, bacon makes almost everything taste better. You just need to make sure to cook it right. This isn't a problem when cooking bacon on its own, but it is when baking it wrapped around something moist and watery, like chopped zucchini, onions and mushrooms. These vegetables release a lot of water during baking and the bacon will have a very hard time crisping up.
My solution is to bake bacon-wrapped stuffed zucchini boats placed on a cooling rack on convection. You don't get perfect crispiness like when you fry bacon on a frying pan, but it's close, and the bacon comes out delicious. And it makes the zucchini boats that much better, that much more flavorful and that much more delicious.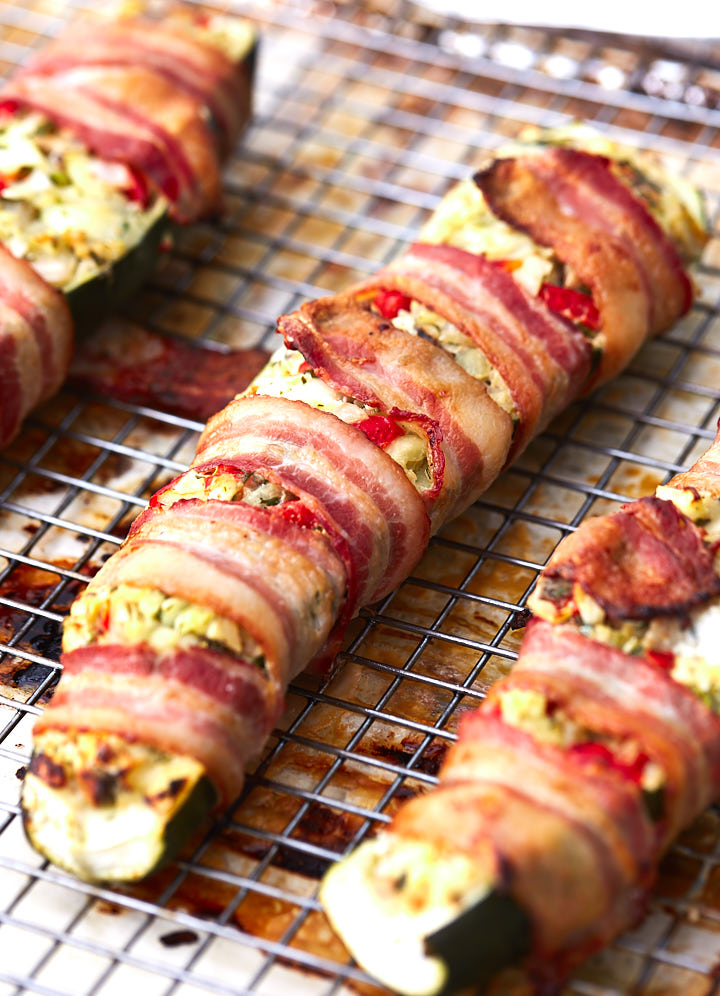 Needless to say, this is one of the most favorite recipes in our house. The prep is minimal, the dish is delicious, full of nutrients and doesn't feel heavy due to the lack of carbs.
I keep wondering how these zucchini boats would taste if smoked on my Big Green Egg. I love my smoked Texas Twinkies, pig shots and Bacon-Wrapped Jalapeno Poppers. They taste great when baked, but when smoked, they are something else. I am definitely smoking these babies the next time I make them. After all, the grilling season is practically here. Though, to be honest, I never stop grilling and smoking, rain, wind or snow.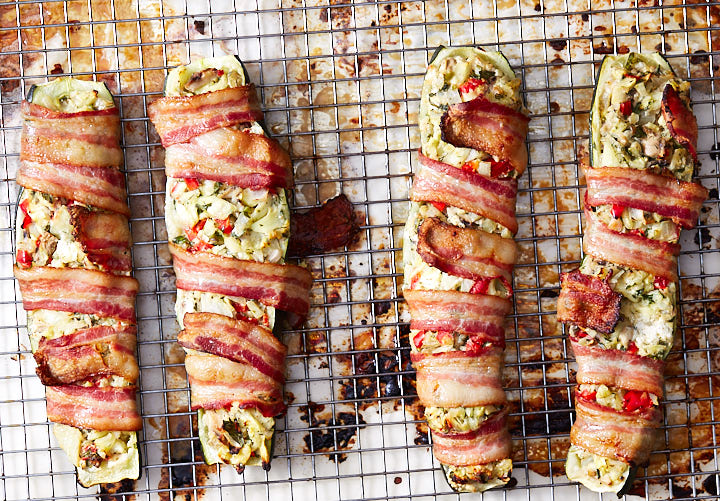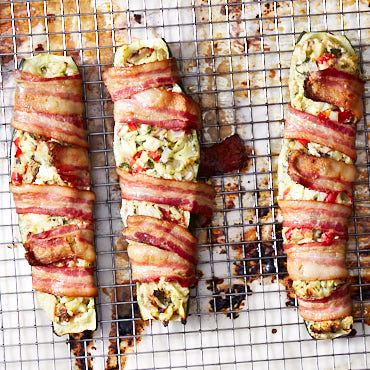 Ingredients
2

large zucchini

12

bacon strips

1

medium onion

finely chopped

1

sweet red pepper

finely chopped

3

garlic cloves

peeled and pressed

1

Tbsp

finely chopped dill

1

Tbsp

finely chopped Italian parsley

8

mushrooms finely chopped

5

oz

cream cheese

1

tsp

kosher salt

plus more to taste

1/2

tsp

freshly ground black pepper

plus more to taste
Instructions
Preheat the oven to 350F convection.

Trim the ends off zucchini. Cut zucchini in half lengthwise. Scoop out pulp, leaving 1/4-inch thick shells.

Chop the pulp very finely and place into a large bowl. Add the onion, mushrooms, garlic, pepper, herbs, cream cheese, salt and pepper. Mix well. Taste and adjust the seasonings if necessary.

Stuff each shell with an equal amount of stuffing. Wrap 3 strips of bacon around each zucchini boat such that the ends end up underneath.

Line a large baking dish with foil or parchment paper, and fit with a cooling rack. Place the zucchini boats on top of the rack, tucking bacon strip ends underneath. This will help keeping the ends in place during baking. The bacon will shrink during baking and some of the ends will come out. This isn't a problem, they will only get crispier than other parts of the bacon.

Bake on the middle rack at 350F convection for 30 minutes. Then turn the heat up to 375F convection and continue cooking for another 15 minutes, until the zucchini shells are soft and the bacon is nicely browned and crispy. Remember, everyone's oven bakes differently, so start checking at 35 minutes. If the bacon is dark and crispy, it's time to pull the boats out.

Remove from the oven and serve immediately.
Links:
8 Crazy-Easy Stuffed Zucchini Recipes