If you are familiar with Georgian cuisine you know it often uses walnuts in various kinds of meat stuffing, sauces and desserts. I like the subtle nutty flavor walnuts add to a dish and thought they would be a great addition to a beef tenderloin roast recipe, along with spinach, to make the dish satisfying and balanced enough so that you don't even need a side dish.  This recipe makes the answer to the question what to serve with beef tenderloin very easy – a light salad is all you need.

The stuffing is really simple and easy to make. It consists of fresh garlic, onions, spinach and walnuts. That's it. Saute vegetables until soft, add walnuts and the stuffing is done. Then stuff into the tenderloin, tie it with a butcher's twine and bake in the oven or smoke on the grill with a lid on for about 40-60 minutes.
I started off with a whole beef tenderloin, but only used half, which is close to 3 lbs. If you are worried that even this is too big, you can go with a smaller piece. Though, remember, this tenderloin will also taste great chilled overnight in a fridge.

If you have the opportunity, prepare your tenderloin about 24 hours before cooking and let sit in the fridge. This will allow the salt and the pepper penetrate the meat, letting the flavors distribute more evenly. Let the meat sit at room temperature for about an hour before cooking. This will help bring the internal temperature up and prevent exterior from overcooking before internal temperature reaches target.
I love the smoky flavor and cook on the grill every chance I get, but really, oven or grill will work equally as well. There is no best way to cook beef tenderloin roast, you cook it just the way you like it. After about 20-25 minutes into the cook you may want to cover the meat with a foil to prevent stuffing from burning.
Just to make sure that your tenderloin roast has reached the desired doneness, check the temperature with  an instant read thermometer, such as ThermoWorks Thermapen or any other. It's generally hard to really ruin tenderloin, but if you cook it too long it will be dry and tough – you don't want that.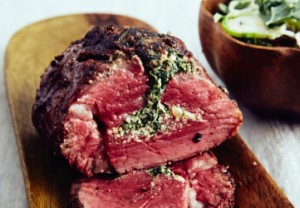 Ingredients
1200

g

beef tenderloin

300

g

spinach

fresh or frozen

3

cloves

of garlic

pressed

1/2

medium onion

finely diced

1

Tbsp

olive oil

120

g

walnuts

ground or very finely chopped

1 1/2

tsp

kosher salt

1/2

tsp

freshly ground black pepper

2

tsp

black pepper

coarsely crushed with a cast iron pan or in mortar with a pestle
Instructions
Heat olive oil in a large skillet, add garlic and onions, saute over medium heat until soft and lightly golden brown.

Add spinach and continue sauteing for about 5-7 minutes until the spinach is soft.

Add ground walnuts, 1/2 tsp salt, ground pepper and mix well. Set aside to cool down.

Make a cut in the tenderloin lengthwise, ensuring that you don't cut all the way through - you want to make a pocket. Then make two more cuts holding the knife parallel to the cutting board, along each side of the tenderloin. Again, make sure you don't cut all the way through the meat.

Stuff the spinach and walnut stuffing inside the tenderloin. Close up the meat and tie with a butcher's twine.

Mix the remaining 1 tsp of kosher salt and 2 tsp of crushed black pepper and gently rub the tenderloin with this mix.

Preheat the oven or the grill/smoker to 425F. Cook for about 45-60 minutes or until the desired doneness is achieved. Cover with foil after about 20 minutes to avoid exposed stuffing getting burned.

Check the internal temperature, remove from oven and let sit for 10 minutes. Carefully remove the twine. Slice and serve.