Salsa fresca is all about fresh ingredients and balance of flavors. There is nothing like homemade salsa made of fresh tomatoes. It's great with tortilla chips, as a side dish for grilled chicken or even for a steak. You can't think of a healthier side dish for a steak, can you? And it's very easy and quick to make. All a basic traditional fresh tomato salsa recipe requires is some chopped tomatoes, onions, chile peppers, cilantro and lime juice, seasoned with salt and spices.
You can make salsa fresca two ways - coarsely chop all ingredients and then briefly pulse in a food processor, or finely chop by hand. By far, my preferred method is to hand chop. It takes a bit longer but the results are superior. Pulsing in a food processor, no matter how brief, results in an unappealing, mushy texture.
Salsa fresca is best served at room temperature, so make sure to take it out of the fridge an hour or so before serving. It will keep in the fridge for up to 3-5 days.
Traditional Salsa Fresca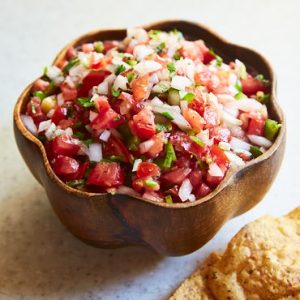 Ingredients
3-4

medium sized fresh tomatoes

finely chopped

1

medium or 1/2 large white onion

finely chopped

1

jalapeno chile

stems, ribs, seeds removed, finely chopped

Juice of one lime plus more to taste

I prefer juice from 1 1/2 limes

1/4

cup

finely chopped cilantro

you can go up to 1/2 cup if you really like it

1

tsp

kosher salt plus more to taste

1/4

tsp

freshly ground black pepper plus more to taste

1/2

tsp

dried Mexican oregano

rub between finders before adding to the salsa

1/8

tsp

ground cumin

optional, add it if you like it
Instructions
Finely chop the tomatoes, onions, and cilantro.

Carefully remove the stem, ribs and seed from the jalapeno pepper and finely chop it. I use food gloves when working with jalapeno peppers as the juices can irritate skin for hours. Avoid getting jalapeno chile juice on your face or in your eyes.

Place tomatoes, onions and cilantro in a serving bowl. Add half the chopped jalapeno pepper and mix well. Add salt and pepper to taste. If the salsa is not hot enough, add some more.

Let the salsa sit for an hour at room temperature for the flavors to develop. Store in a refrigerator for up to 3-5 days.
Make sure to use Mexican oregano, and not Mediterranean oregano when making salsa. Mexican oregano comes from an entirely different plant family. Regular oregano has a sweet taste according to Epicurious, while Mexican oregano's taste is a bit more citrusy, with subtle hints of lime that really enhance the flavor of chiles. It's frequently called for in chili powders, chili con carne, moles and rojos.
I buy Mexican oregano from a local Latin American grocery store. If you can't find it locally, you can buy Mexican oregano
 from Amazon.
Salsa Mexicana
Here is another fresh tomato salsa recipe that I like quite a bit, adapted with a few modifications from Mexican Flavors: Contemporary Recipes from Camp San Miguel. This recipe is different in that it emphasizes using vine-ripened tomatoes (now is a great time for those) and substitutes white onion for green onions and fresh garlic. I do like to add white onion though, I think it enhances the flavor and adds a little bit of sweetness to salsa. The original recipe also did not include lime juice, which is a big shortcoming in my view. It may have been done by mistake. The author is very adamant about hand chopping the ingredients to avoid mushy texture.
Be sure also to try my Fresh or Canned Salsa Roja recipe.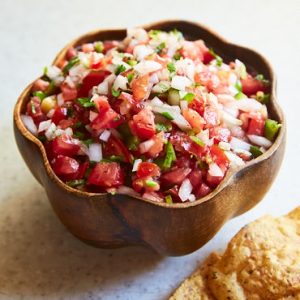 Ingredients
4

cups

finely chopped vine-ripened tomatoes

1/4 to 1/2

cup

fresh cilantro

coarsely chopped

2

whole green onions

finely sliced

1 to 2

serrano chiles

with the seeds, finely chopped or minced

3

cloves

of garlic

minced

juice from one lime

1/2

teaspoon

kosher salt

plus more to taste

1

medium white onion

finely chopped (optional)
Instructions
In a large bowl, combine the chopped tomatoes with the cilantro, green onions, white onion, half the chiles, garlic, lime juice and salt. Taste and adjust for salt and chile.

This fresh tomato salsa can be refrigerated in an airtight container for up to 3 days. Bring to room temperature before serving.