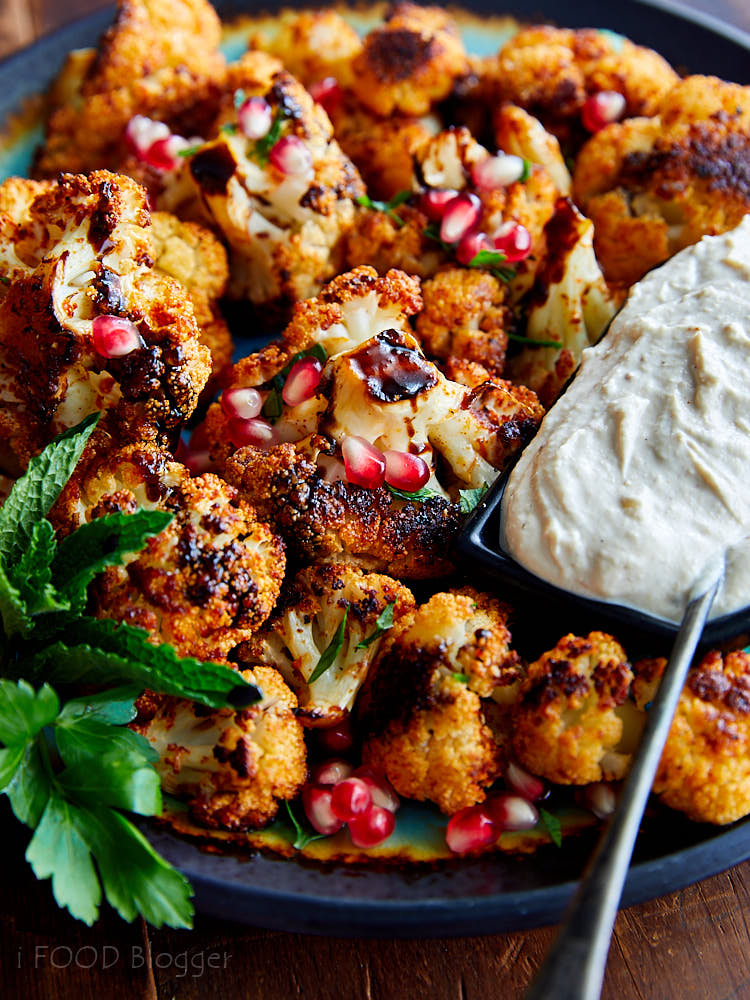 Cauliflower is always best served cooked rather than raw, and my favorite has been roasted cauliflower. I normally roast it with some olive oil, salt, pepper, garlic and Parmesan cheese but when visiting a local Middle Eastern restaurant I was inspired by their version of cauliflower served with tahini sauce and sprinkled with ruby red pomegranate seeds and pomegranate molasses. Their cauliflower dish tasted very different from what I was accustomed to, yet so delicious that I got determined to recreate it at home.
Jumping a little bit ahead, let me tell you how my roasted cauliflower turned out. In one word – delicious! The nutty, creamy tahini sauce really complemented the toasty, crunchy texture of cauliflower. The sweet and tart taste of pomegranate molasses added a new dimension and brought balance to the dish. The crunch from pomegranate seeds was a great addition as well, it was almost like eating a salad with crunchy croutons in it. It really is hard to mess up this dish, unless you overcook the cauliflower or screw up the tahini sauce. I will definitely be making this dish again, for snacks and as an accompaniment to main dishes.
Roasted cauliflower ingredients
A little bit of asking about what goes in their tahini sauce and some questions about the dish – they were quite reluctant to share their secrets – yielded a general idea and I was well on my way to replicate it.
Most, or perhaps all, of the ingredients in this recipe are commonly available locally.  Pomegranate molasses is something that sounded quite intimidating at first, but in reality they are quite easy to buy locally, if you have a Middle Eastern supermarket nearby, from Amazon, or make from scratch. Making tahini sauce turned out to be super simple as well as soon as I procured tahini, aka sesame seed butter, from a local health food store.
How to roast cauliflower?
The trick to making crunchy on the outside, beautifully caramelized roasted cauliflower is not cut it into small pieces. You want large florets. Bite-size and roasted cauliflower cannot be in the same sentence. I've seen so many cauliflower recipes out there that would be great otherwise, but they fail miserably because of  this little detail. Cut them too small and they will dry out before getting perfectly caramelized. And if you pull them out once they are done – they won't be sufficiently brown. I also like adding some paprika which gives cauliflower an amazing color.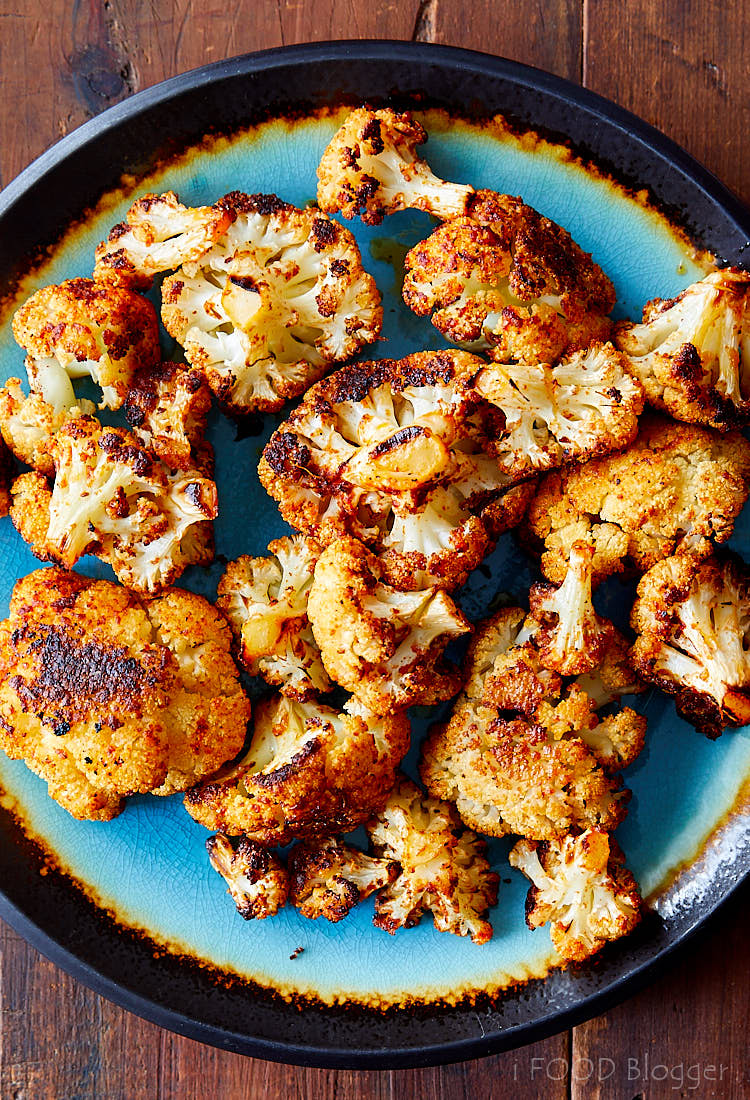 Another trick is high temperature. I could never get my cauliflower crispy and caramelized enough at 375F, which many recipes recommend. At 425F on the other hand, I always get great results. That's the temperature that I used in this recipe as well.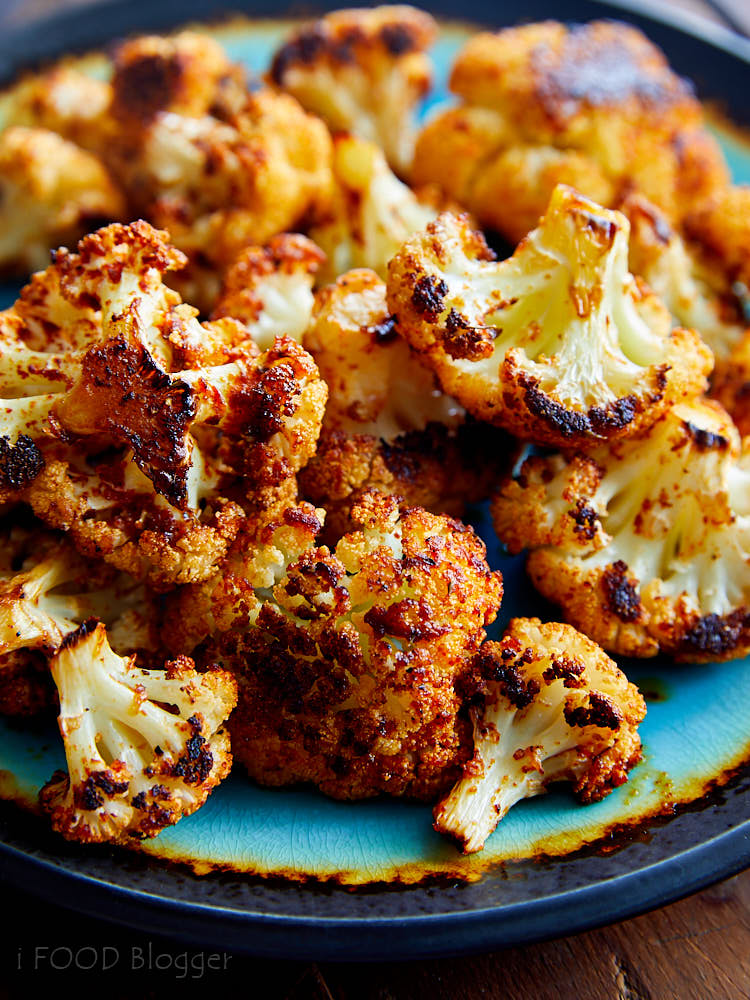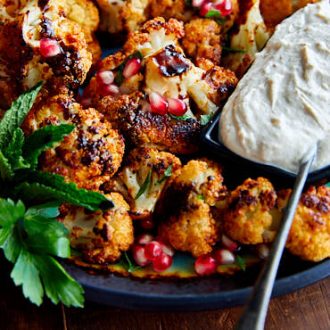 Roasted Cauliflower with Tahini Sauce and Pomegranate Molasses
Print
Pin
Rate
Ingredients
For the roasted cauliflower:
1

head cauliflower

( cut into large florets)

3

Tbsp

extra virgin olive oil

1/2

tsp

kosher salt

1/2

tsp

black pepper

1 1/2

tsp

Hungarian paprika
For the tahini sauce:
1

garlic clove

(pressed)

Juice of 1/2 a lemon

3

Tbsp

tahini

1

Tbsp

water

(plus more as needed)

2

Tbsp

Greek yogurt

(heaping)

1/2

tsp

kosher salt

(optional, to taste)

1/2

tsp

black pepper

(optional, to taste)
For the garnish:
2

Tbsp

pomegranate molasses

2

Tbsp

pomegranate seeds

1

tsp

fresh mint leaves

(finely chopped)

1

Tbsp

parsley leaves

(finely chopped)

juice of 1/2 a lemon
Instructions
To make the roasted cauliflower:
In a large bowl, toss the cauliflower florets with the olive oil, paprika, salt and pepper until evenly coated.

Transfer the cauliflower onto a large baking sheet and spread around in a single layer. Avoid crowding as that will impact roasting.

Roast until crispy and golden brown, about 45 minutes, stirring halfway through cooking. Remove cauliflower from the oven and transfer to a serving platter and let cool.

To make the tahini sauce:

In a small bowl, combine the garlic, tahini and lemon juice. The sauce will thicken at this point so you will need to add water. Start with one tablespoon and mix well. You are looking for yogurt like consistency. Add more water as needed to achieve the right consistency. Add the Greek yogurt and mix well. Taste for salt and pepper and add as needed. Set aside.

When the roasted cauliflower has cooled down, sprinkle with the tahini sauce, lemon juice, pomegranate molasses, chopped mint and parsley leaves, and serve immediately.
Nutrition
Calories:
205
kcal
|
Carbohydrates:
12
g
|
Protein:
3
g
|
Fat:
16
g
|
Saturated Fat:
2
g
|
Sodium:
600
mg
|
Potassium:
159
mg
|
Fiber:
1
g
|
Sugar:
6
g
|
Vitamin A:
80
IU
|
Vitamin C:
15.6
mg
|
Calcium:
30
mg
|
Iron:
0.7
mg