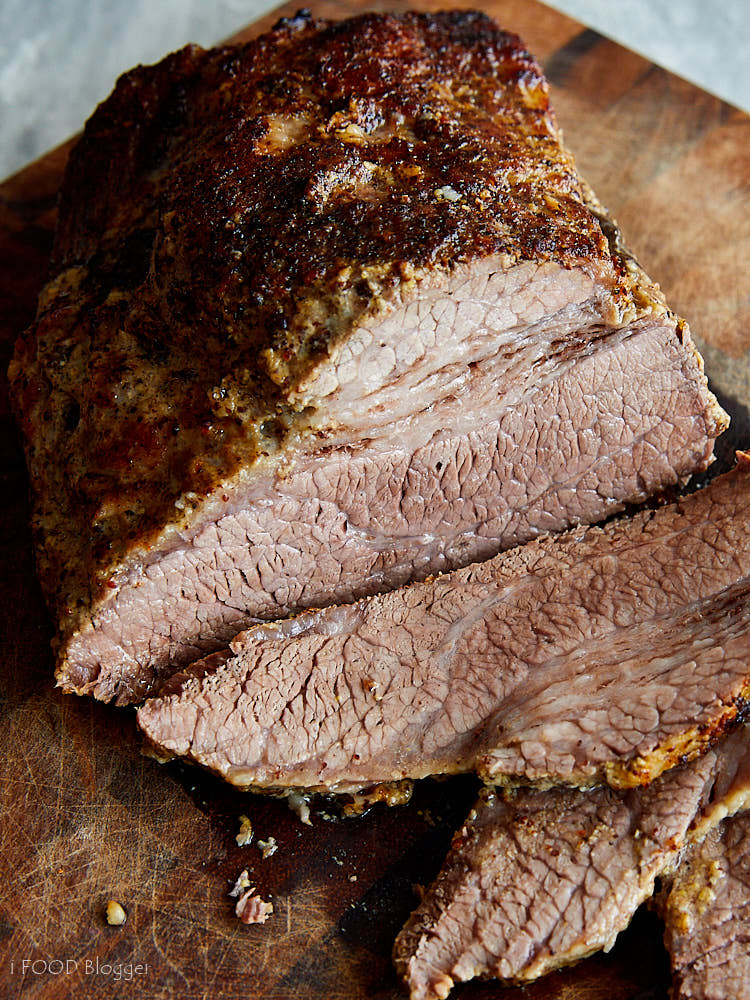 I've had a 10 lb brisket sitting in a fridge, vacuum sealed, for over a week, hoping to smoke it but just could not carve out enough time from my busy schedule for that. Instead, I trimmed the brisket, ending up with a uniformly thick, 5-pound piece of meat, marinated it in my favorite mustard sauce and roasted in the oven at 275F. It only took about 5 hours to fully cook this oven brisket and the meat turned out just as juicy and succulent as I get on a smoker.
Of course, it lacked the smoky flavor and the amazing bark, and looked quite pale in comparison. Fixing the color was super easy - I turned the broiler on high and let the brisket brown until it reached a beautiful dark brown color. I did not time how long it took, but it was in the 6-10 minutes range. I actually planned on using the broiler at the end so I only roasted to 195F so that the final internal temperature wouldn't exceed 200F.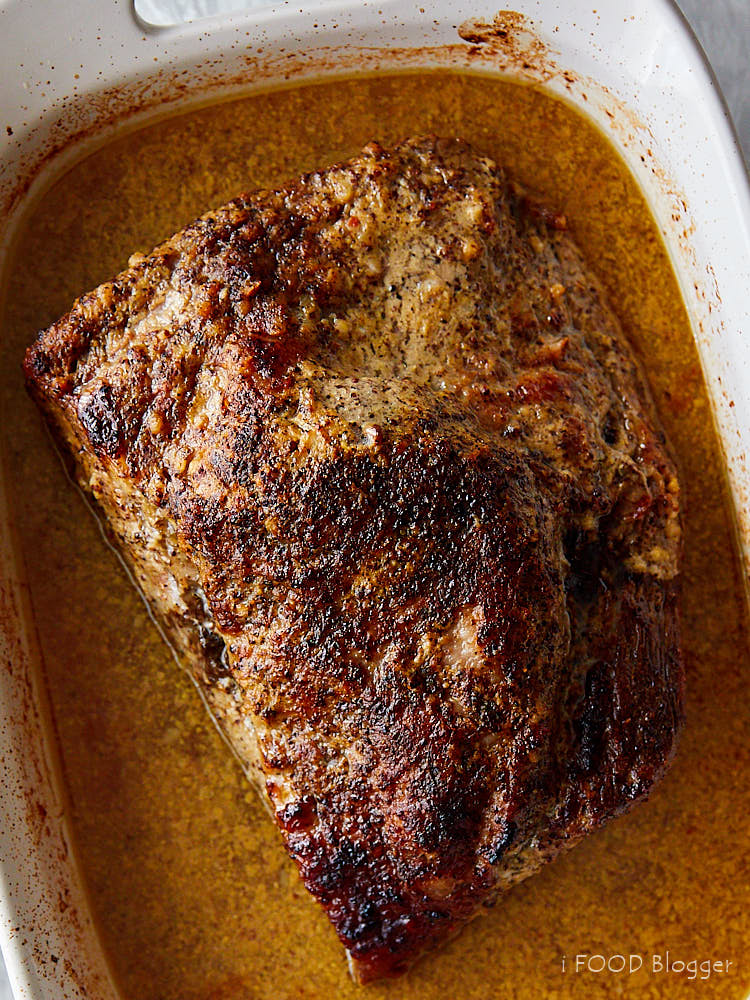 Overall, I loved the results and will definitely be making this oven brisket again. If you crave that smoky flavor, feel free to add some liqiud smoke.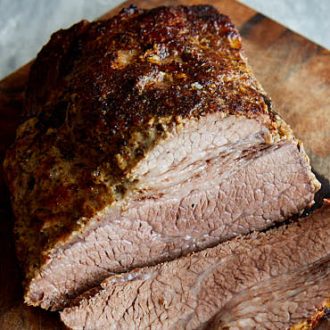 Ingredients
For the marinade:
5

Tbsp

Zatarain's creole mustard

(or spicy brown mustard)

6

Tbsp

red wine vinegar

(or balsamic vinegar)

2

Tbsp

brown sugar

2

tsp

kosher salt

1

tsp

black pepper

3

garlic cloves

(pressed)

5

Tbsp

olive oil

1/4

tsp

Tabasco sauce

(plus more to taste)
Instructions
Preparing brisket
If you purchased a whole brisket, you may want to make sure that it fits in your roasting pan or baking dish. It's also a good idea to make sure that the brisket is uniformly thick for even cooking. Because of that, I like to cut off the tip part and save it for other purposes, for example making hamburgers.

If you have just the flat muscle of the brisket, the meat will be the same thickness across the entire piece so all you have to make sure is that it fits.

Now that you have the piece of brisket you want to roast, it's a good idea to trim the fat cap to about 1/4", not more. The fat cap on top of the brisket will protect the meat from drying out during roasting and will add a lot of flavor, but you don't want too much fat on your brisket.
Marinating
Combine all of the ingredients for the marinade in a medium bowl and whisk until well combined. Pour the marinade into a Ziploc bag, or a vacuum bag, add the brisket and seal, expelling as much air as possible. Massage the meat to make sure it's covered evenly. Refrigerate for 6-8 hours, or overnight.
Cooking
Preheat oven to 275F. You can also cook your oven brisket at 250F but the results will be quite similar based on my experience.

Transfer the brisket and the marinade into a baking dish or roasting pan, cover with foil, insert a thermometer into the thickest part and roast until the temperature reaches 195F-197F. Roasting time will depend on the size and thickness of the meat, but at 275F it takes about 1 hour per pound of meat. My 4 lbs and 11 ounces brisket that you see on the pictures took exactly 5 hours and 10 minutes to cook.

Remove the foil and set the broiler to high, making sure that the brisket is positioned on the middle rack. Broil for about 6-10 minutes, or until the top is nicely browned. You want to target 200F as your final internal temperature - the temperature at which brisket at peak tendernesss and succulence.

Remove brisket from the oven and let rest inside the roasting pan / baking dish, uncovered, for 20 minutes. Then transfer carefully to a large cutting board, slice across the grain and serve.
Nutrition
Calories:
360
kcal
|
Carbohydrates:
3
g
|
Protein:
37
g
|
Fat:
20
g
|
Saturated Fat:
5
g
|
Cholesterol:
112
mg
|
Sodium:
698
mg
|
Potassium:
612
mg
|
Fiber:
0
g
|
Sugar:
2
g
|
Vitamin A:
5
IU
|
Vitamin C:
0.5
mg
|
Calcium:
17
mg
|
Iron:
3.7
mg