Richly flavored and coated in delicious, velvety-smooth sauce, this Mongolian Beef recipe will make you forget about restaurant-served Mongolian Beef for good. This recipe uses a lot less sugar and oil in it too, but you won't miss them.
In case you wonder, Mongolian Beef has nothing to do with Mongolia. The dish is as much Mongolian as French Dressing is French.
True origins of Mongolian Beef are not clear. Some believe that this dish originated from China, where naming restaurants or dishes after Mongolia is appealing to local population. Mongolia's harsh continental climate has greatly influenced its traditional diet, which primarily consists of dairy products, meat and animal fats, with a noticeable shortage of vegetables and spices.
In contrast, meat-rich diet in China is a luxury that few can afford. What Mongolians eat is perceived as very desirable in China. Hence, in many Chinese restaurants its common to see dish names such as Mongolian Beef, Mongolian Chicken, etc.
Others argue that the name is just an exotic name invented by Chinese-American restaurateurs and food marketers to increase appeal of the dish. That surely makes sense – stir-fried beef doesn't sound nearly as special as Mongolian beef.
Regardless, Mongolian Beef is one of my favorite dishes and I make it at home quite regularly. Like millions of other people, I was introduced to this dish at P.F. Chang's. I liked it in general, but couldn't get over the feeling that it was way too oily and sweet, tasting like a beef lollipop. Nothing against beef or lollipops, but, please, not together.
My favorite version of Mongolian Beef recipe is less oily and a lot less sugary and tastes more like an authentic Asian recipe.
A common way to serve Mongolian Beef is over a bed of steamed rice. Somehow in our family a mix of broccoli and some Japanese ramen noodles became a traditional side for Mongolian Beef, popular with both adults and children alike.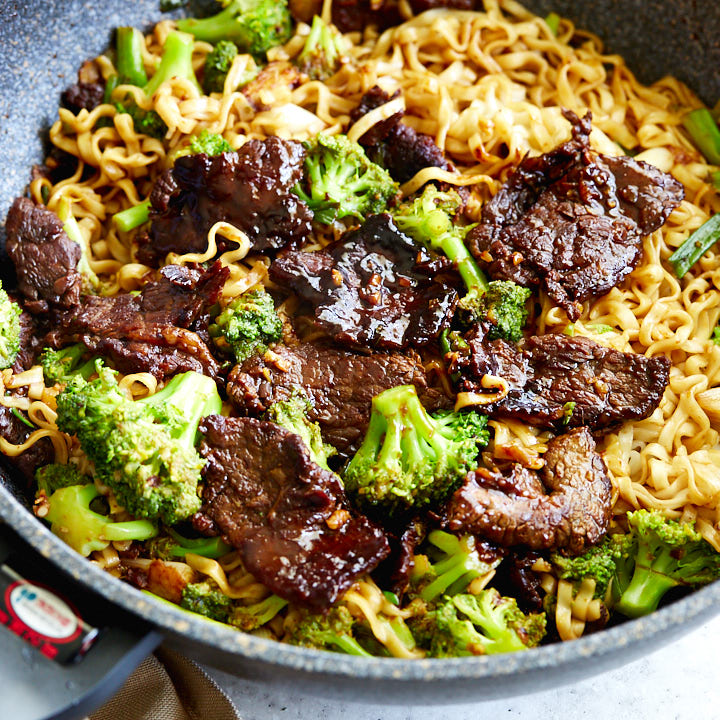 The choice of beef for this dish is very important. You want to pick the cut that is inherently tender. My favorite cuts are flanks steak (most commonly used to make Mongolian Beef), beef tenderloin and sirloin tip, also known as flap meat or' faux hanger' steak. The sirloin tip is the best value of the three as it's least expensive of the three.  Serious Eats mentioned it as the best inexpensive steak for grilling, though I find it works wonderfully for stir-fry recipes as well.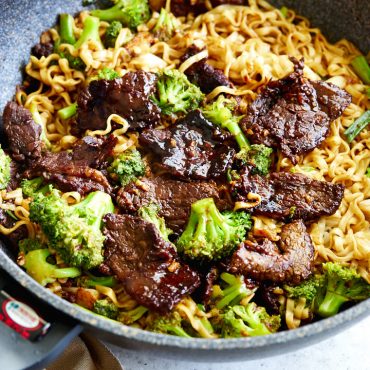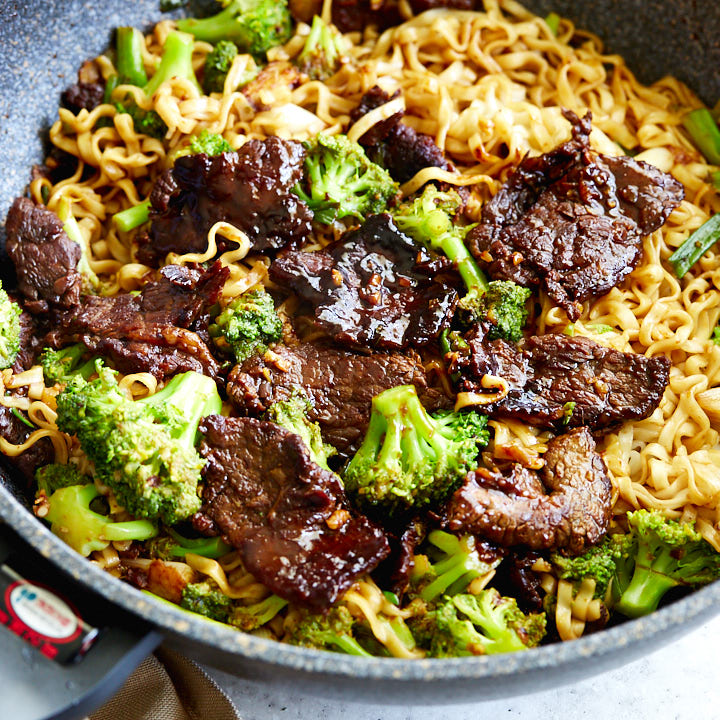 Ingredients
1

lb

beef flank steak

or beef tenderloin, flap meat / sirloin tip sliced across the grain into ¼" thin pieces

1

broccoli head

cut into bite-size pieces

½

lb

uncooked noodles

2

Tbsp

peanut oil for frying

or any other cooking oil

4

garlic cloves

minced

1-

inch

long piece of fresh ginger

peeled and thinly sliced

5

green onions

cut on the diagonal into 1-inch pieces
For the marinade:
1

Tbsp

dark soy sauce

2

Tbsp

low sodium sauce

1

Tbsp

oyster sauce

1

Tbsp

Shaoxing rice wine

or sherry

2

tsp

cornstarch

1

tsp

sesame oil

2

tsp

honey

or white sugar

¾

tsp

sea or kosher salt

¼

tsp

white pepper
Instructions
Place all of the ingredients for the marinade in a medium size bowl and mix well. Add the sliced beef and mix to ensure proper coverage. Set aside and let marinate for about 15-20 minutes.

Meanwhile, cook the noodles according to instructions on the package. Remove from the pot, drain and set aside.

To prepare broccoli, bring to boil water in a large pot filled with water 2/3 of the way. Add a couple of drops of oil, this will help the broccoli retain its bright green color. Add the broccoli pieces and blanch for 3 minutes. Remove the broccoli from the water, drain and set aside.

Heat 1 tablespoon of oil in a wok or skillet over high heat. Stir-fry the beef until it is browned on the outside but still pinkish inside. Removed from the wok and set aside.

Heat the remaining 1 tablespoon of oil in the wok or skillet over high heat. Add the garlic and ginger and stir-fry for about 20-30 seconds, until slightly browned and aromatic.

Return the beef back into the wok or skillet and stir-fry until the beef is cooked through and the center of the meat is no longer pink, about 1–2 minutes. Add the green onion and stir to combine the ingredients well.

Remove the wok from heat, add the noodles and the broccoli and stir well.

Plate and serve immediately.