There are dozens of Mongolian beef recipes out there, like the P.F. Chang's Mongolian Beef recipe, but this one is my favorite by far. The sauce in this recipe is velvety smooth, tasty, and not overly sweet or salty. Preparation is quick and easy. Once you try this recipe, it will be hard to order take-out.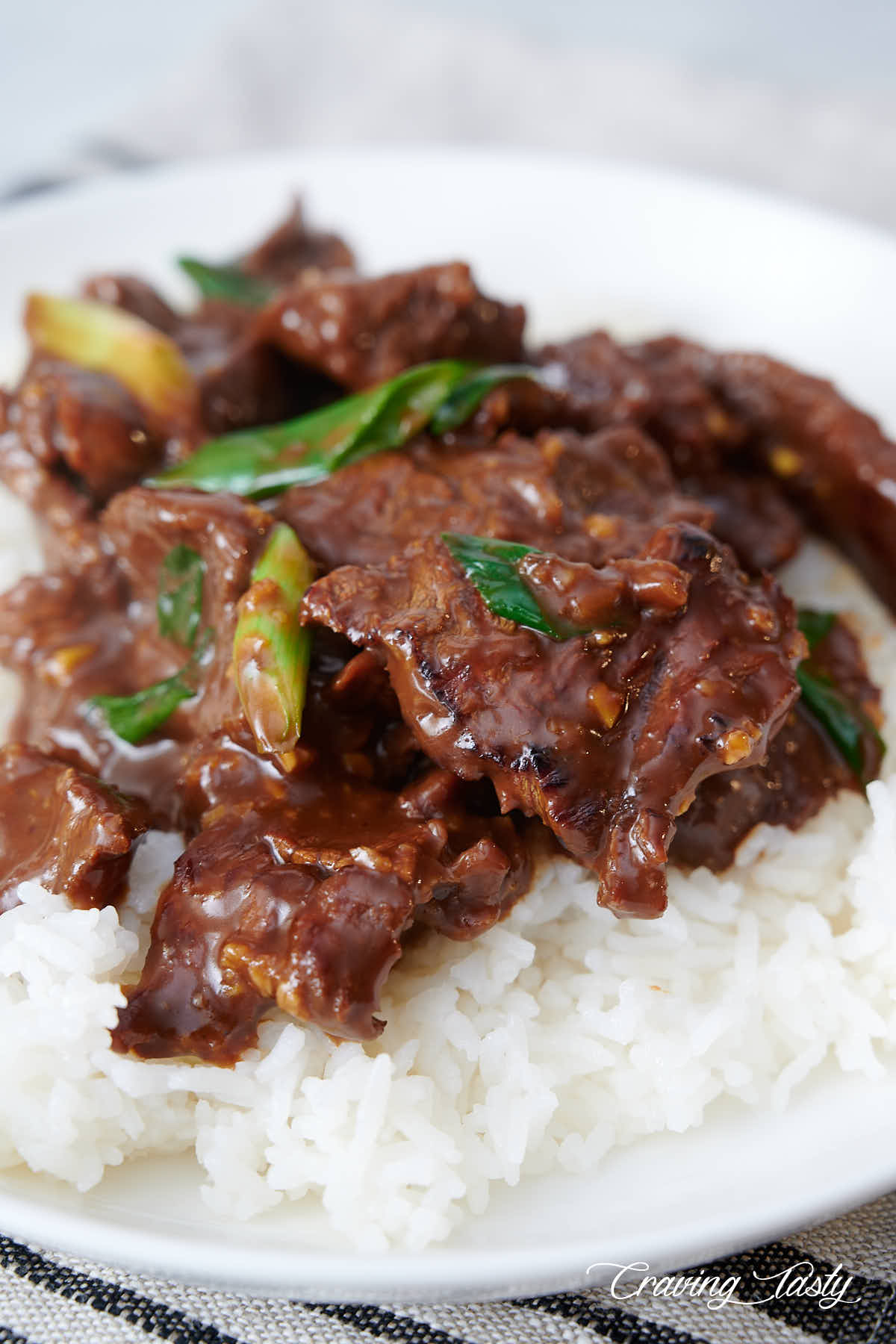 In case you wonder, Mongolian Beef has nothing to do with Mongolia. The dish is as much Mongolian as French Dressing is French.
The true origins of Mongolian Beef are not clear. Some believe that this dish originated from China, where naming restaurants or dishes after Mongolia is appealing to the local population. Mongolia's harsh continental climate has greatly influenced its traditional diet, which primarily consists of dairy products, meat, and animal fats, with a noticeable shortage of vegetables and spices.
In contrast, a meat-rich diet in China is a luxury that few can afford. What Mongolians eat is perceived as very desirable in China. Hence, in many Chinese restaurants, it's common to see dish names such as Mongolian Beef, Mongolian Chicken, etc.
Others argue that the name is just an exotic name invented by Chinese-American restaurateurs and food marketers to increase the appeal of the dish. That surely makes sense – stir-fried beef doesn't sound nearly as special as Mongolian beef.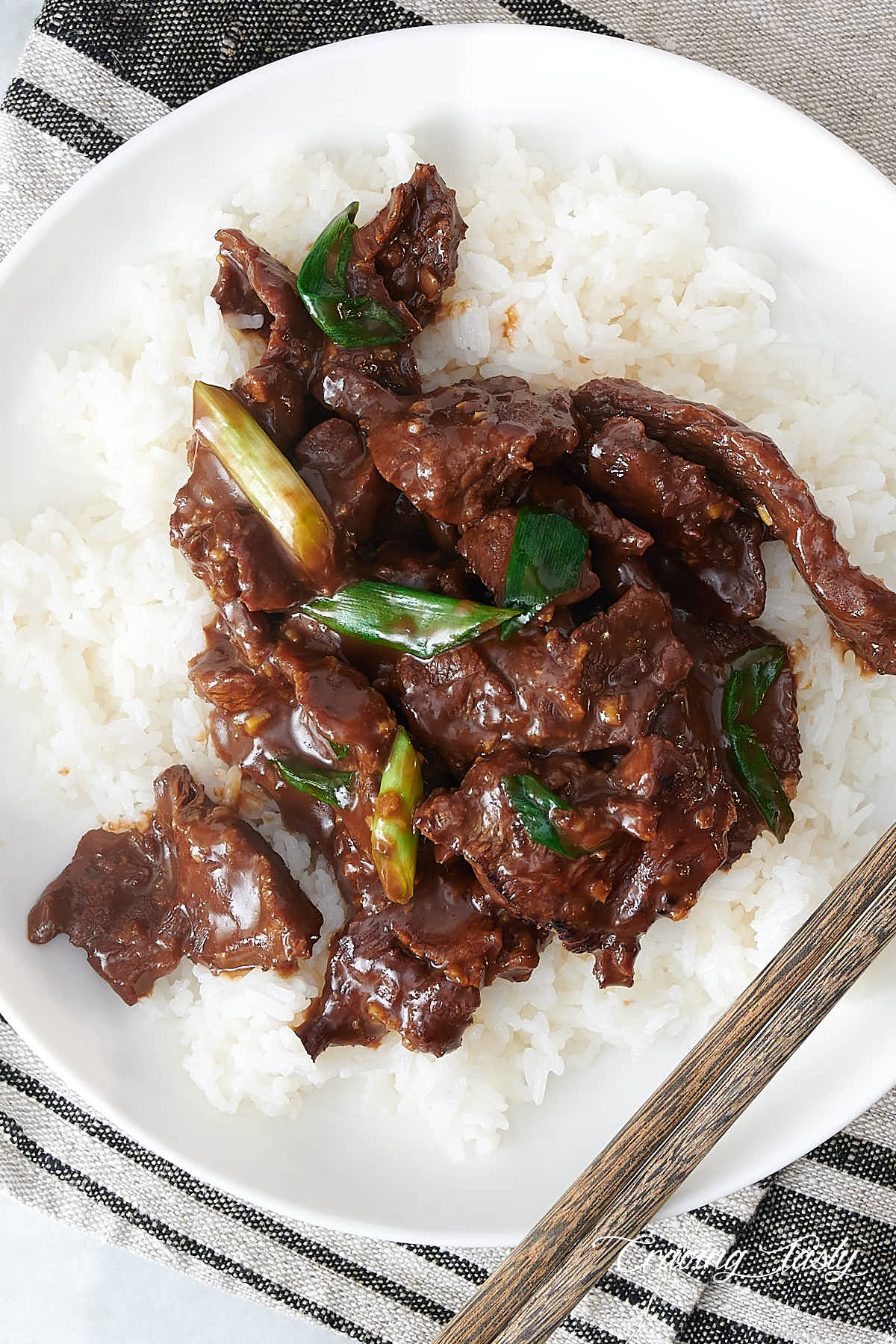 Selecting the meat
The choice of beef for this dish is very important. You want to pick the cut that is inherently tender. My favorite cuts are flanks steak (most commonly used to make Mongolian Beef), beef tenderloin and sirloin tip, also known as flap meat or' faux hanger' steak. The sirloin tip is the best value of the three as it's least expensive of the three.
I also discovered that beef chuck works just as well for making Mongolian beef. It's a little tougher, and the cooking time is short, so I cut it thinly across the grain and pound with a tenderizer (the spiked side). This works wonderfully, giving me perfectly tender meat.
Using dark soy sauce
I incorporated dark soy sauce in this dish, after trying it in my Thai pork recipe.  Dark soy sauce is less salty, has a deeper color and more body and is commonly used in Asian cooking. When you order Mongolian beef from restaurants, chances are that they used dark soy sauce to make that velvety smooth sauce.
This type of soy sauce is readily available at most, if not all, local Asian grocery stores. If you can't find it, you can order online or substitute with low sodium soy sauce.
Serving Mongolian beef
Plain white jasmine rice is my top choice here. It perfectly complements the richly flavored, saucy beef. You can also serve this dish with Japanese-style ramen noodles or steamed vegetables. such as broccoli, green beans, cauliflower, and more.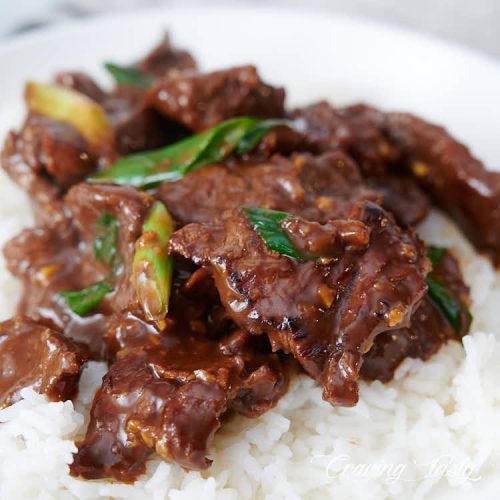 Ingredients
2

lbs

flank steak

or beef tenderloin, flap meat/sirloin tip sliced across the grain into ¼" thin pieces

1 1/3

cups

Jasmine rice

uncooked

2

Tbsp

peanut oil

for frying; or any other cooking oil

4

garlic cloves

minced

1

inch

fresh ginger

peeled and minced

5

green onions

cut on the diagonal into 1-inch pieces
For the marinade:
2

Tbsp

dark soy sauce

4

Tbsp

low sodium soy sauce

2

Tbsp

oyster sauce

2

Tbsp

Shaoxing rice wine

or sherry

4

tsp

cornstarch

2

tsp

sesame oil

4

tsp

honey

or white sugar

1

tsp

sea or kosher salt

plus more to taste

¼

tsp

white pepper
Instructions
Add all of the ingredients for the marinade to a medium bowl and whisk. Add the sliced beef and mix. Set aside and let marinate for about 15-20 minutes at room temperature.

Meanwhile, cook the 1 1/3 cups of jasmine rice. This will give you 4 cups of cooked rice.

Heat 2 tablespoons of oil in a wok or a large skillet over medium-high heat. Transfer the beef to the wok, squeezing the excess sauce out into the bowl and reserving it for later. Stir-fry the beef until just done about 4-5 minutes.

Add the garlic and ginger and continue cooking for another minute.

Add the remaining sauce and the green onions, and stir fry for another minute, until the liquid begins to bubble. Remove the wok from heat.

Serve immediately over jasmine rice.
Nutrition
Calories:
714
kcal
|
Carbohydrates:
70
g
|
Protein:
55
g
|
Fat:
21
g
|
Saturated Fat:
6
g
|
Cholesterol:
136
mg
|
Sodium:
1650
mg
|
Potassium:
927
mg
|
Fiber:
1
g
|
Sugar:
13
g
|
Vitamin A:
150
IU
|
Vitamin C:
4
mg
|
Calcium:
87
mg
|
Iron:
5
mg
Recipe updated on November 28, 2019