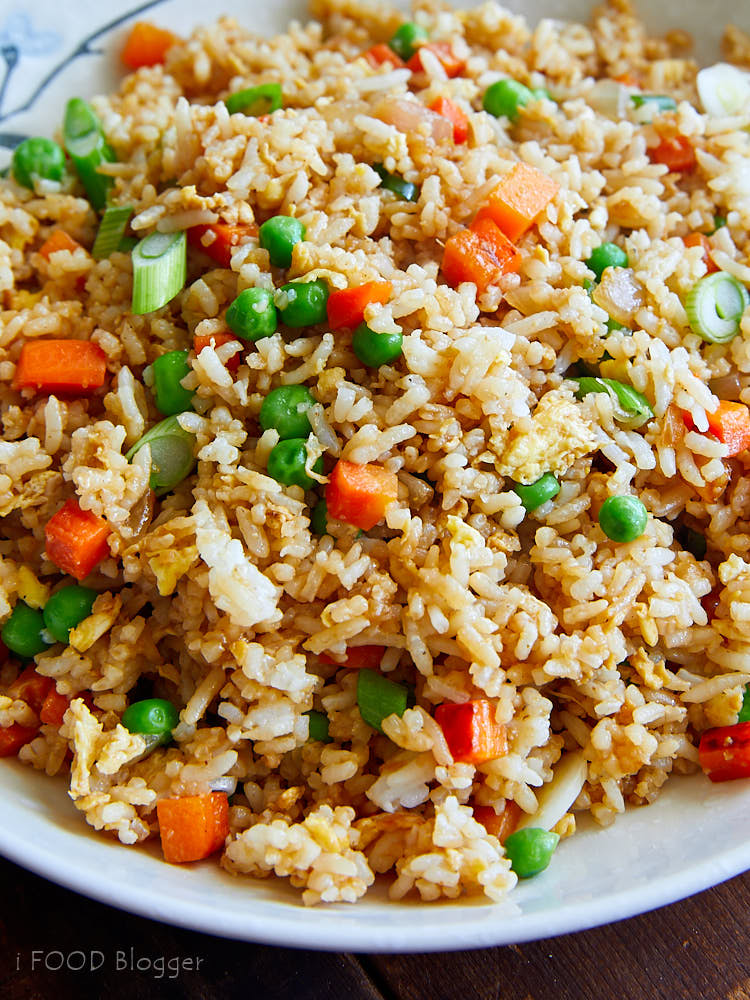 Do you like hibachi-style fried rice? You know, that delicious fried rice that they prepare on a huge, flat metal grill? Sometimes with the flames rising to the ceiling? I order it every time I get an opportunity as it tastes so good. Well, here is some great news – you can make this delicious fried rice at home in no time. It's super easy to make and doesn't require any special ingredients.
Now, you will need the right equipment though. Don't worry, I am not talking about a monster hibachi griddle in the middle of your kitchen. By definition, the Japanese word hibachi means "fire bowl". Traditionally, hibachi refers to an open-top ceramic bowl that contains burning charcoal for heating purposes. In North America, the word hibachi is commonly used to describe an iron hot plate or a flat grill. At home, all you will need is a flat bottom wok for this task. It will perfectly simulate the high heat grilling achieved on a hibachi grill.
Can you use a regular frying pan? Yes, but the rice will be different. I prefer the result I get from a wok. My favorite wok is a non-stick, scratch resistant flat bottom wok. I love how my favorite Asian dishes I made in it turned out, and my homemade Japanese fried rice was no exception.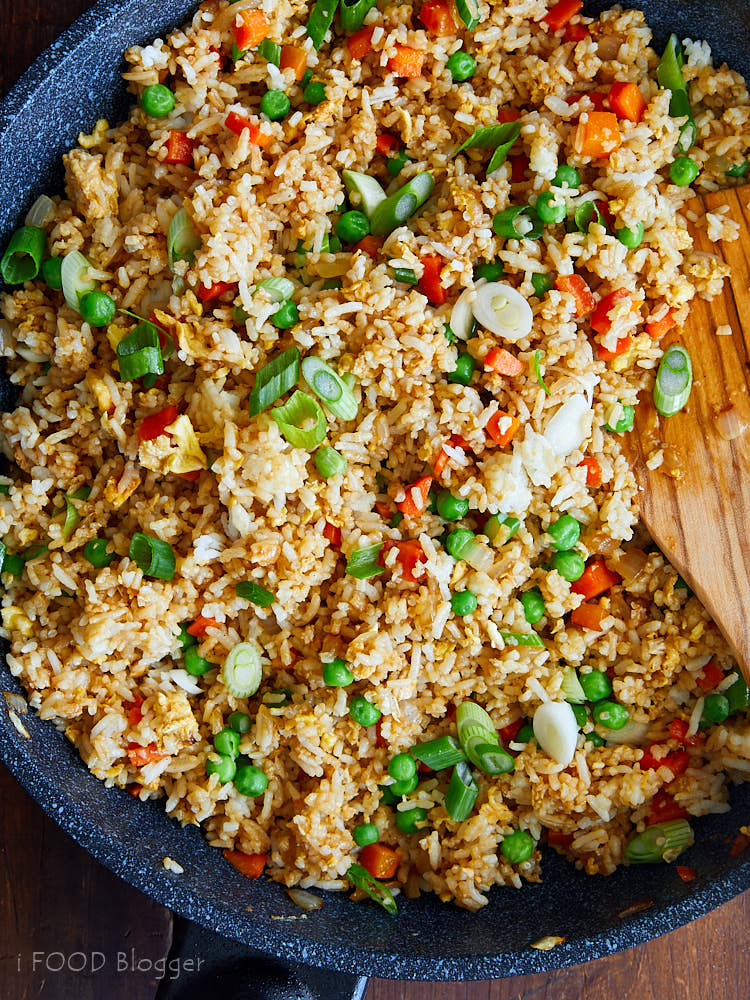 Interestingly, at our home we also use this wok for non-Asian dishes due to its superb capabilities. My wife loves using it to make fried eggs because of how they turn out in it. We now use either this wok or the cast iron pan for most of our stove-top frying.
When making hibachi-style fried rice I like to incorporate the same tricks that professional chefs do. A relative of a friend of mine owns a hibachi restaurant. He once told me that his secret for great hibachi fried rice is lots of butter and soy sauce. And a day old rice, which doesn't clump together and makes for better fried rice. Many places tend to use cheaper short grain rice, but jasmine is the best, so I use that at home.
Also, did you notice how they cover vegetables with a bowl on the grill? Doing so is critical to making perfectly tender vegetables without drying them out. At home, I saute vegetables over a fairly high heat until I get nice caramelization, then lower the heat and cover them with a small lid that goes right inside the wok. The lid prevents steam from escaping, which in turn helps soften the vegetables in a matter of a few minutes.
Also, try using white pepper instead of black pepper for that peculiar taste. Many hibachi places use it for fried rice.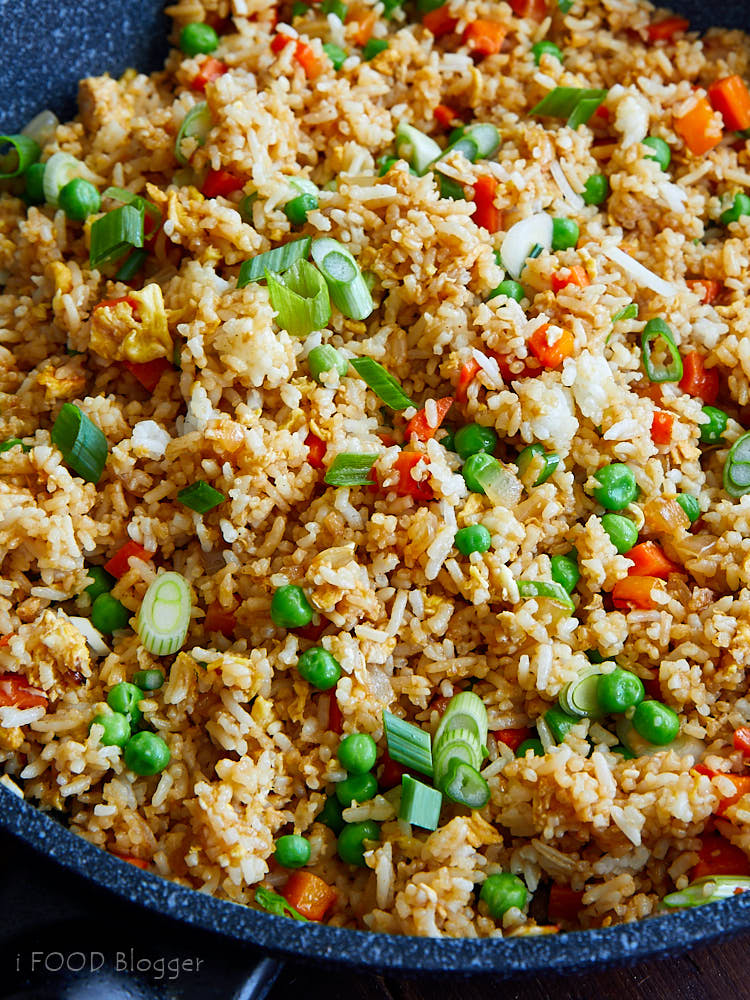 In my recipe I use a combination of low sodium and regular soy sauce because it gives me the perfect balance of flavor and saltiness. For an even lower sodium version, substitute regular soy sauce with low sodium. Alternatively, use all regular soy sauce for a saltier version. Japanese fried rice is often served with grilled chicken at restaurants. My favorite variant is to use leftover roasted chicken with the fried rice. It makes it a complete dish.
I don't know if this is customary, but I've seen many chefs add butter to make their fried rice taste richer and more flavorful. Butter really elevates this dish to a new level. And if you like spicy stuff, add some hot chili oil into your rice.
Try this rice with my hibachi chicken, which rivals the chicken from even the best hibachi restaurants and only takes 10 minutes to make.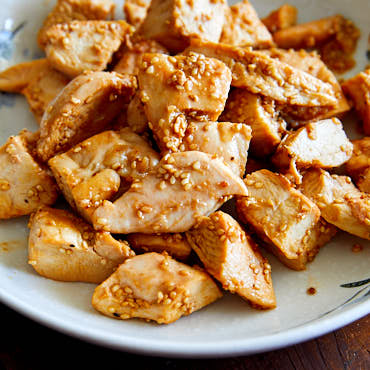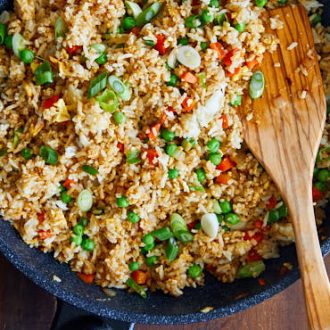 Japanese Fried Rice (Hibachi Style)
A quick and simple recipe for delicious Japanese hibachi-style rice.
Print
Pin
Rate
Ingredients
Step 1:
2

Tbsp

peanut oil

(or canola, or olive oil)

½

cup

finely diced carrots

½

cup

finely diced white onion

2

garlic cloves

(minced)
Step 3:
3

cups

cooked jasmine rice

(or any long-grain rice)

2

Tbsp

regular soy sauce

2

Tbsp

low sodium soy sauce

1

tsp

hot chili oil

(optional)

3

Tbsp

unsalted butter

(optional if you want a healthier version, but strongly recommended for that great taste)

1/2

tsp

white pepper
Step 4:
½

cup

frozen peas

½

cup

green onions

(sliced on the diagonal about 1/2 " long)

1

cup

diced grilled chicken

(optional)
Instructions
In a wok, heat peanut oil over a fairly high heat. Add the vegetables and saute for about 2-3 minutes, frequently stirring, until nicely caramelized. To help the vegetables soften up, lower the heat to medium and cover them with a small lid placed inside the wok. Let saute for another 3-5 minutes, stirring every 1 minute or so, until the vegetables are soft enough.

Crank the heat up to medium-high. Move the vegetables over to the side of the wok and add the eggs. Cook as you would scrambled eggs, frequently scraping and mixing with a spatula. Mix in with the vegetables.

Add the rice and the soy sauce. Optionally, you may add unsalted butter for richer, buttery taste and/or hot chili oil for some heat. Sprinkle the white pepper. Mix with vegetables and saute for about 3-4 minutes, constantly stirring and trying to break up any rice clumps.

Finally, add the frozen peas and the green onions and continue sauteing for another minute. A cup of diced left-over chicken is always a nice addition to hibachi rice, if you have some on hand. If you add the chicken you may have to cook an extra minute or so, until the chicken has warmed up.
Notes
Nutrition values include optional ingredients: butter and chili oil.
Nutrition
Calories:
303
kcal
|
Carbohydrates:
28
g
|
Protein:
11
g
|
Fat:
15
g
|
Saturated Fat:
5
g
|
Cholesterol:
87
mg
|
Sodium:
562
mg
|
Potassium:
225
mg
|
Fiber:
1
g
|
Sugar:
2
g
|
Vitamin A:
2235
IU
|
Vitamin C:
8.3
mg
|
Calcium:
38
mg
|
Iron:
1.3
mg