These Italian meatballs are by far the best Italian meatballs I've ever tried. They are moist and juicy, very flavorful and cheesy.  You can serve them on a bed of pasta, or throw on a bun and have an awesome meatball sandwich.
What makes them special is:
Combination of beef chuck and pork shoulder, some of the most flavorful beef and pork cuts. Both have just the right ratio of meat and fat to make the meatballs juicy and very flavorful.
The meatballs are baked in pasta sauce to keep them moist and to add more flavor.
Fresh oregano and basil add even more flavor.
The melted cheese that makes everything better.
Browning before baking brings out even more flavor.
To stay true to Italian cuisine, use fresh mozzarella or bocconcini (small, bite sized fresh mozzarella balls).
Fresh mozzarella tends to be stretchy and stringy when melted. And soooooo good! If you use fresh mozzarella you want to serve the dish as hot as possible, before the cheese starts to harden. You may want to keep a pair of kitchen scissors handy, just in case.
If you are looking for something less stringy, try low moisture shredded mozzarella or, my favorite, marble cheddar cheese.
Cheddar is more acidic, which makes it less stretchy and more brittle so to speak. This also makes it much easier to serve. No scissors needed.
To make sure this dish is perfect, use your favorite tomato sauce. Mediocre sauce will ruin the dish.
Serve with pasta or on a bun. These make superb meatball sandwiches. The best part, you don't need to do much to create a perfect meatball sandwich - just scoop up a couple of meatballs together with the sauce and the cheese, plop on a bun and enjoy.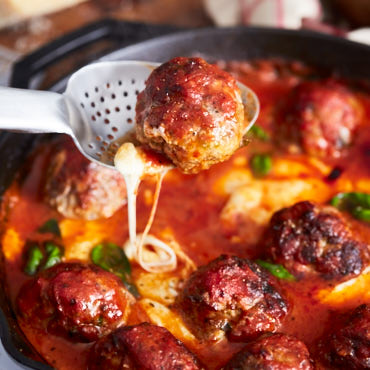 Ingredients
1

lb

ground beef chuck

1

lb

ground pork butt

1/2

cup

fresh Italian bread crumbs

soaked in milk or water and torn into small pieces (dry, unseasoned bread crumbs will work too)

1

large egg

lightly beaten

1/3

cup

finely grated Parmesan cheese

1

Tbsp

fresh oregano leaves

chopped

2

Tbsp

fresh basil leaves

chopped

10-12

whole fresh basil leaves to serve

2

tsp

kosher salt

1/2

tsp

freshly ground black pepper

1

Tbsp

extra virgin olive oil

1

jar

24 oz tomato pasta sauce (Prego Original Pasta Sauce is what I like to use in this recipe)

8

oz

fresh mozzarella or bocconcini

drained and sliced (or 1 cup shredded cheddar cheese)
Instructions
Preheat oven to 450F

Mix ground beef, pork, bread crumbs, egg, Parmesan cheese, salt, pepper, chopped oregano and basil in a large mixing bowl. Divide into 12 equal parts and shape into 12 balls.

Heat the oil in a 12-inch cast iron pan. Add the meatballs and cook over medium-high heat, turning, for about 5 minutes or until browned all over.

Add the pasta sauce and bring it to the boil. Add the cheese.

Transfer the pan into the oven. Bake at 425F convection or 450F regular, uncovered, for 15 to 20 minutes or until meatballs are cooked through (reached internal temperature of 165F).

Remove the pan from the oven. Garnish with the remaining whole basil leaves, sprinkle some freshly ground black pepper on top and serve immediately.