I spent a fair amount of time living in the South but never developed a passion for this iconic Southern appetizer – fried green tomatoes. Not until I tried them at Dinosaur BBQ restaurant in Buffalo, NY. I liked them so much that the first thing I did the following day was to buy some green tomatoes and start frying.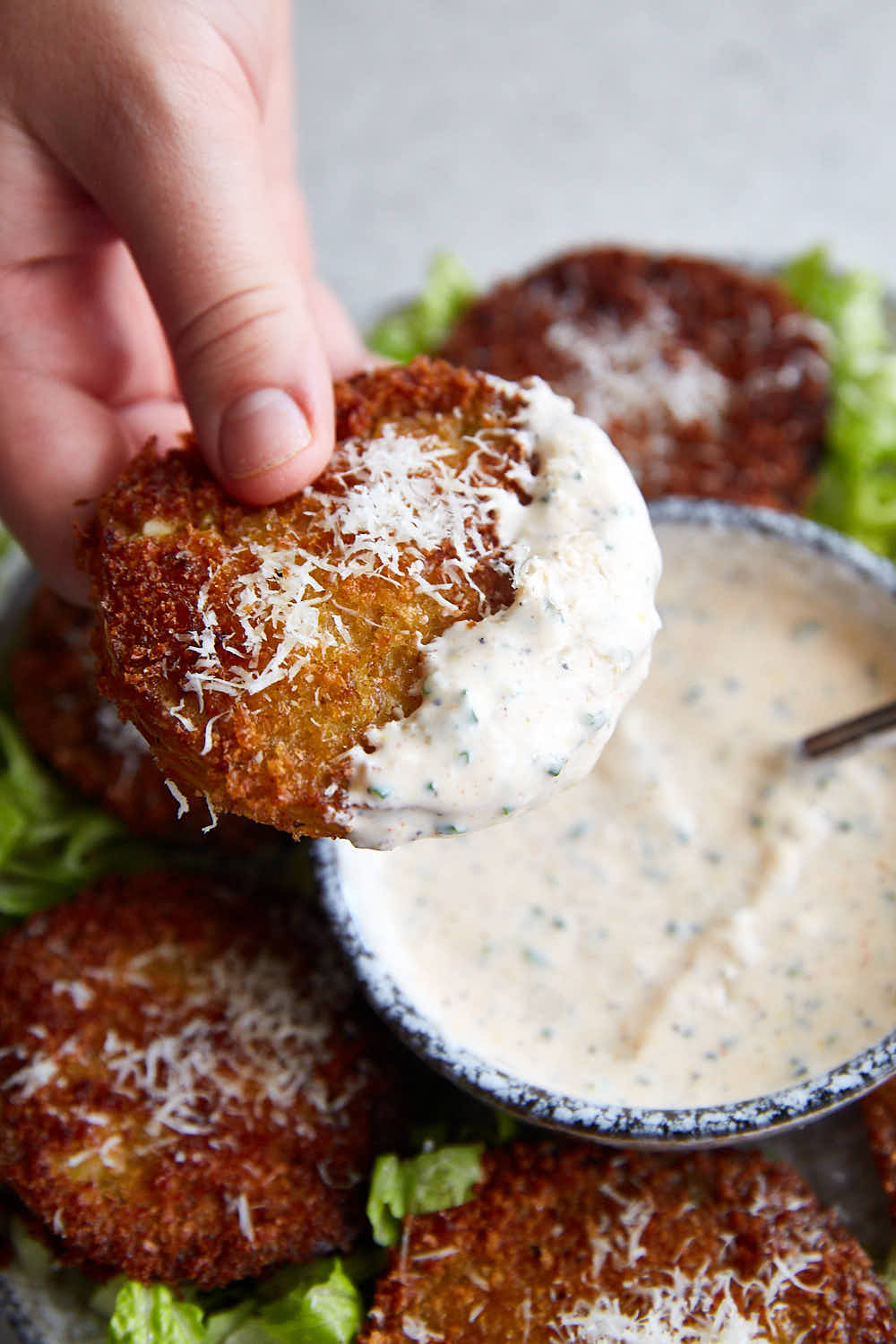 The recipe is an adaptation from the Dinosaur BBQ's cookbook. I made no changes to it as I wanted the same taste I experienced at the restaurant. The tasty, crunchy crust on these tomatoes is a treat in and of itself. The tender, tangy tomato flesh inside makes a beautiful contrast to the crunchy exterior. You want to savor every bite.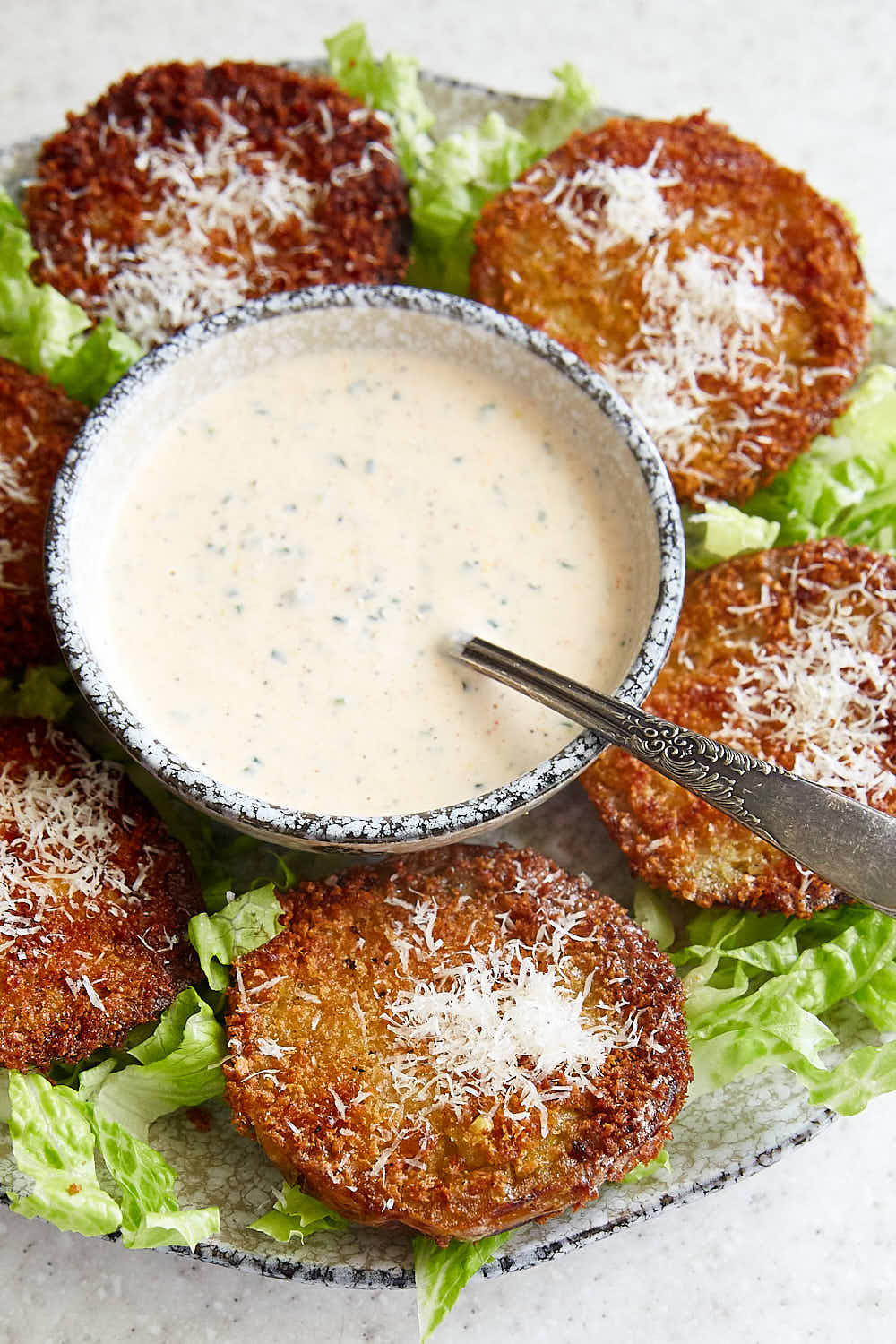 These tomatoes are absolute best hot off the skillet served with the homemade Buttermilk Ranch Dressing. Everyone gathers in the kitchen, and we start enjoying them as soon as the first batch is ready and the next batch is in the pan. That's the best way to eat them. Why wait, right?
Sprinkle them with grated or shaved Pecorino Romano or Parmesan cheese, they will taste even better.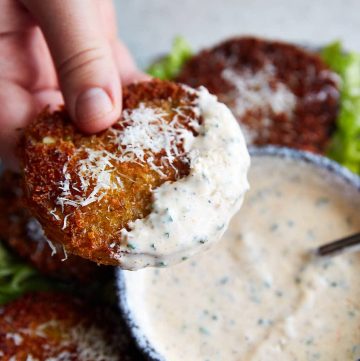 Ingredients
4

green tomatoes

2

tsp

Creole seasoning

or to taste

2

eggs

2

tsp

black pepper

freshly ground

4

cups

panko bread crumbs

4

tsp

kosher salt

1/2

tsp

cayenne pepper

1/2

cup

vegetable oil

plus more as needed

Grated Pecorino Romano cheese

or grated Parmesan cheese; for garnish;

Buttermilk Ranch Dressing

for dipping
Instructions
Core the tomatoes, cut off the ends, then slice them into quarter-inch rounds. Dry them with a paper towel then sprinkle `1lightly with Creole seasoning on both sides.

In a shallow bowl, whisk the eggs with a pinch of pepper. In another shallow bowl, combine the panko crumbs, salt, cayenne pepper and the remaining black pepper.

Dip the tomato slices in the egg mixture and then in the panko crumbs, pressing to coat on both sides and around the edges. Place the coated pieces on a cooling rack set over a baking sheet. Refrigerate for 30 minutes.

Heat the vegetable oil over medium heat in a large skillet. When the oil is hot, add a few tomato slices without overcrowding. Fry for 2 to 3 minutes on each side, until golden brown. Remove from the pan and transfer to a platter lined with a paper towel. Sprinkle with shaved or grated Pecorino or Parmesan cheese.