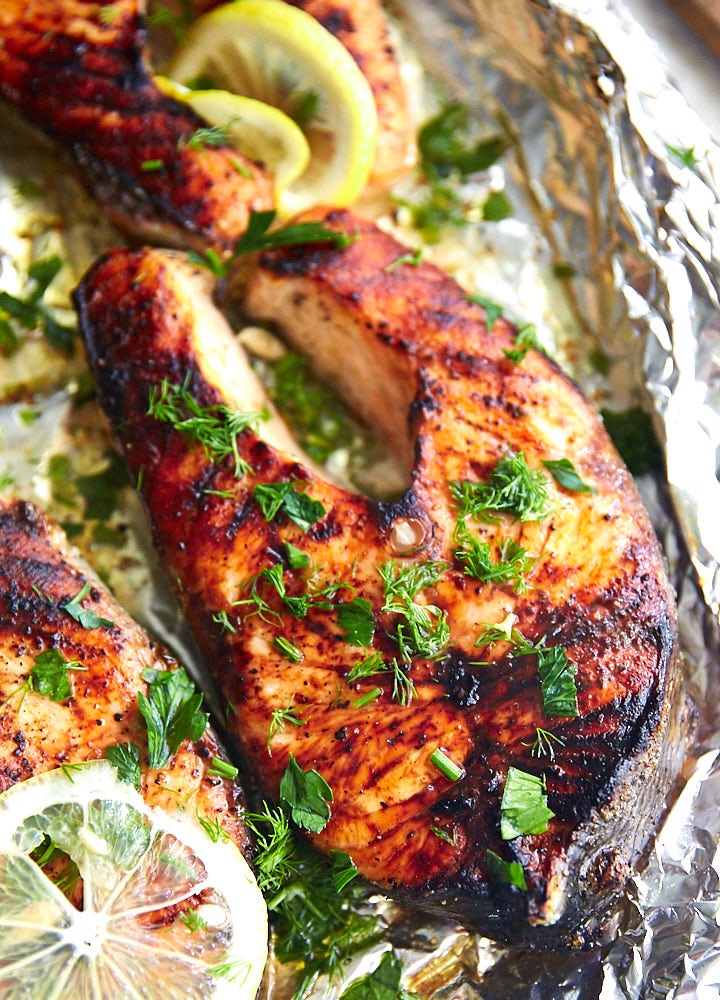 I am in love with broiled salmon! I recently posted about broiled chicken breasts and how heavenly they turned out. Well, I can say the same thing about broiled salmon – it's heavenly!  That grilled-like quality you get from broiling and that caramelization make a world of difference to taste and flavor, all without messing with a grill and done in a matter of minutes.
As simple as it may seem, a perfectly broiled salmon takes a little bit of knowledge to pull off. It's nothing difficult but it really helps to know a few tips.
After some experimenting and reading, here is what helped me to make a perfectly cooked salmon fillet.
The optimal temperature for broiling salmon
You need to decide how you like your fish – rare, medium rare, well done, etc. The salmon will cook really quickly under a broiler. A minute or even 30 seconds here can make a difference between medium and well done.
Here is a very good guide to salmon doneness temps from Serious Eats:
110°F and below – your salmon flesh is basically raw.
110 to 125°F – your salmon is medium rare.
125°F to 140° – the salmon is entering medium to well-done territory. Flakiness will start to increase. Albumen will start to be release resulting in unattractive white clumps forming on the exterior of the salmon. As you broil your salmon, when you see albumen you have to stop cooking immediately.
140°F and above, your salmon has reached its limit.
I like broiling my salmon with a BBQ thermometer probe inserted so I can pull it out as soon as the target temperature is reached. You can use an instant read thermometer as well. Also remember, the temperature will continue rising after you pull the fish out of the oven so you have to account for that as well. But, no worries, you will become an expert in no time.
Here is my perfectly broiled salmon, cooked to medium, on my second try. This one was pulled out of the oven at around 120F or so. Broiled it on the top rack the entire time, oven door closed. Very tender and moist. No honey, just salt, olive oil, pepper and herbs.
Rack position
Here are my broiled salmon steaks, cooked on top rack for about 2 minutes and moved down to the middle rack as they started to caramelize too quickly. I kept the oven door cracked open and the heating element stayed on the entire time.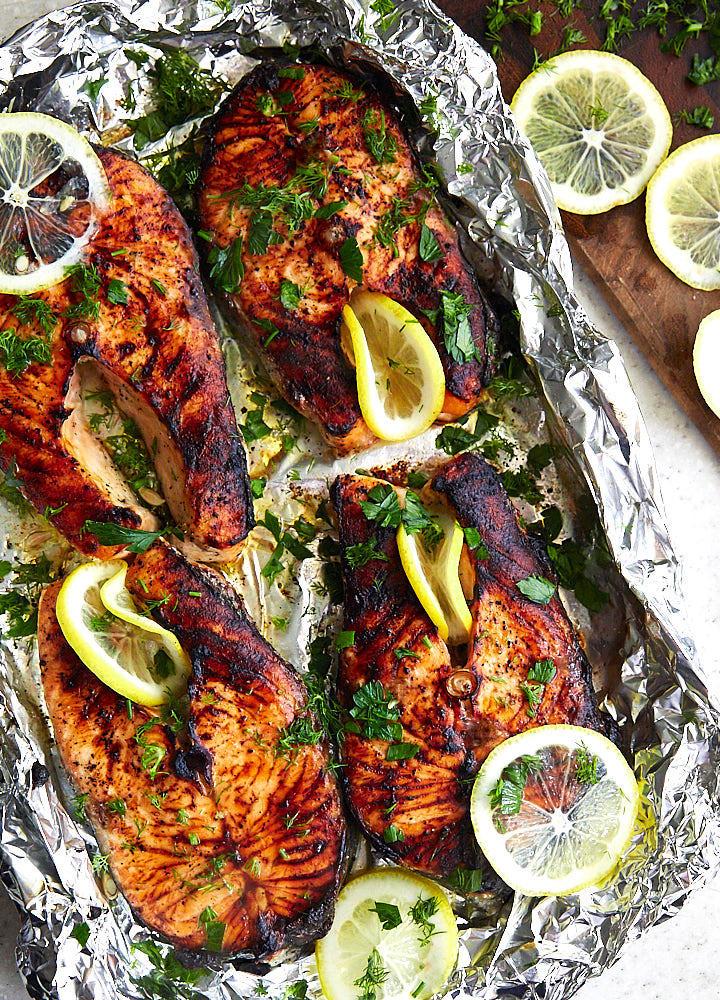 I pulled the steaks out at 125F. The temperature kept rising afterwards. Here is the moment when it got to 128F. They came out medium done and tasted ridiculously good. The caramelization and the slight charring blew me away. The salmon skin came out crispy as well.


Here is the fillet I made earlier in my experiments that I pulled at about 135F. This one naturally came out well done.  The temperature just kept rising and peaked somewhere around 148F. The salmon was good, but not as moist as I would have liked. I broiled it on the top rack the entire time, about 6 minutes, oven door closed. Notice the difference with the salmon steaks above broiled with the heating element on the entire time.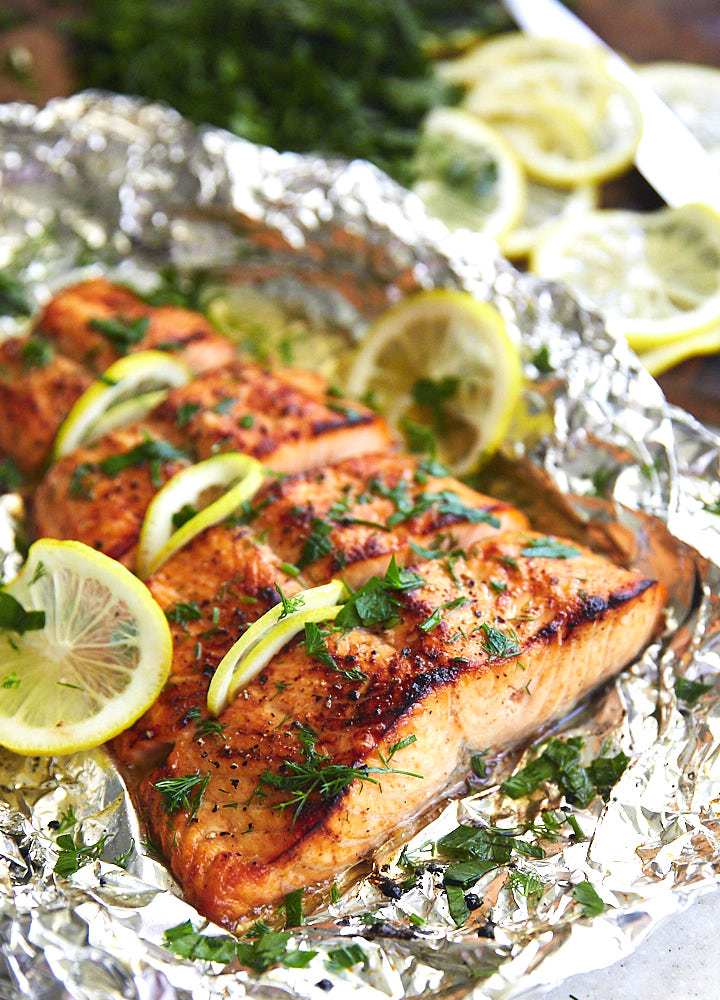 The seasonings
Take a look a the picture above one more time. You will see that some of the herbs turned almost black, while others are freshly green. Herbs and a broiler do make good friends. Skip the herbs until after the salmon is out of the oven.
I like using a tiny bit of olive oil, some honey and salt and pepper. I add some pressed garlic sometimes. This combination works amazingly well.
In the picture just above I did not use honey. I got a great tasting fish but there wasn't much of that coveted caramelization. The next time I added some honey, and look how my salmon has transformed (all other pictures). I could just stare at it for minutes before eating it. You can use honey, maple syrup or even plain corn syrup.
Which side up?
I cooked the salmon fillets three ways – flesh side up, skin side up, and skin side up first half then flesh side up the rest of the way. Let me tell you, flesh side up with no flipping produced the best looking fish, period. Salmon skin does not take broiling to well, it blisters and chars, and looks ugly in the end. Flipping half way resulted in poor browning on either side and caused some breakage as I wasn't too careful.
For salmon steaks it doesn't matter. But remember, you don't need to flip them.
Slicing the fillet before broiling
If you are going to broil a salmon fillet and want the salmon pieces to look good, cut the fillet into pieces before cooking. It will be impossible to get nice cuts after the fish is done cooking.
Oh, put a generous layer of olive oil at the bottom – this will prevent the skin from sticking to foil.
Getting that gorgeous caramelization
The honey is not the only thing that will help with caramelization. You will also need the broiler element to stay on during the entire cooking time. I picked up this really helpful advice from Serious Eats. It made a huge difference for me. To keep the element on at all times, just keep the oven door cracked open. This trick works on most kitchen ovens.
Ventilation
Yes, there will be some smoke coming out of your oven. Not a lot but noticeable. As salmon is being cooked, some fish oil will splatter on the heating element of the broiler and create smoke. So, make sure to open the window and turn the range hood on before you start cooking. If you want no smoke at all broiled steelhead trout instead.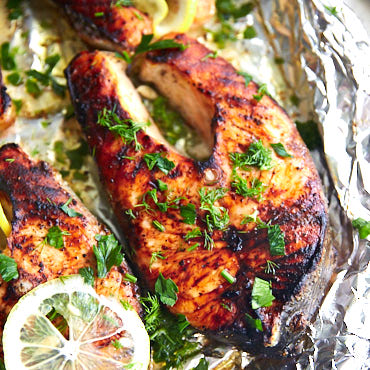 Ingredients
2

lbs

salmon fillet

(about 1 1/2 - 2 1/2 lbs fillet or 4 salmon steaks)

1

Tbsp

olive oil

(good quality)

1

tsp

olive oil

(good quality)

Sea salt

(to taste)

Black pepper

(to taste)

1

tsp

honey

1

lemon

(juiced)

1/2

lemon

(thinly sliced, for garnish)

1

Tbsp

dill

(fresh, finely chopped)

1

Tbsp

parsley

(fresh, finely chopped)
Instructions
Position the rack to the highest level, about 4" from the broiler heating element. Preheat the oven in broil mode (set the power to high).

Using heavy duty foil, make a tray with raised sides. Place the foil tray inside a baking tray.

Pour one tablespoon of olive oil inside the foil tray and spread evenly.

Pour 1 teaspoon of honey and 1 teaspoon of olive oil on top of salmon fillet and spread evenly across the top and side surface using your hand. No need to spread over the skin side.

Sprinkle salt and pepper over the top.

Slice the salmon into serving size pieces and slide onto the foil tray, skin side down.

Broil on high for about 4-5 minutes, without flipping, until the top looks slightly caramelized and the temperature in the center reaches a perfect 115 to 125°F, around medium to medium-rare. If the fish browns too quickly and isn't quite done enough in the center, switch the broiler off and finish the fish in the hot oven, which should give you a perfectly cooked fish in about a minute or so.

Take the salmon out of the oven and serve with lemon juice, lemon slices and fresh shopped dill and parsley.
Nutrition
Calories:
368
kcal
|
Carbohydrates:
1
g
|
Protein:
45
g
|
Fat:
19
g
|
Saturated Fat:
2
g
|
Cholesterol:
124
mg
|
Sodium:
100
mg
|
Potassium:
1111
mg
|
Sugar:
1
g
|
Vitamin A:
170
IU
|
Vitamin C:
1.2
mg
|
Calcium:
27
mg
|
Iron:
1.9
mg