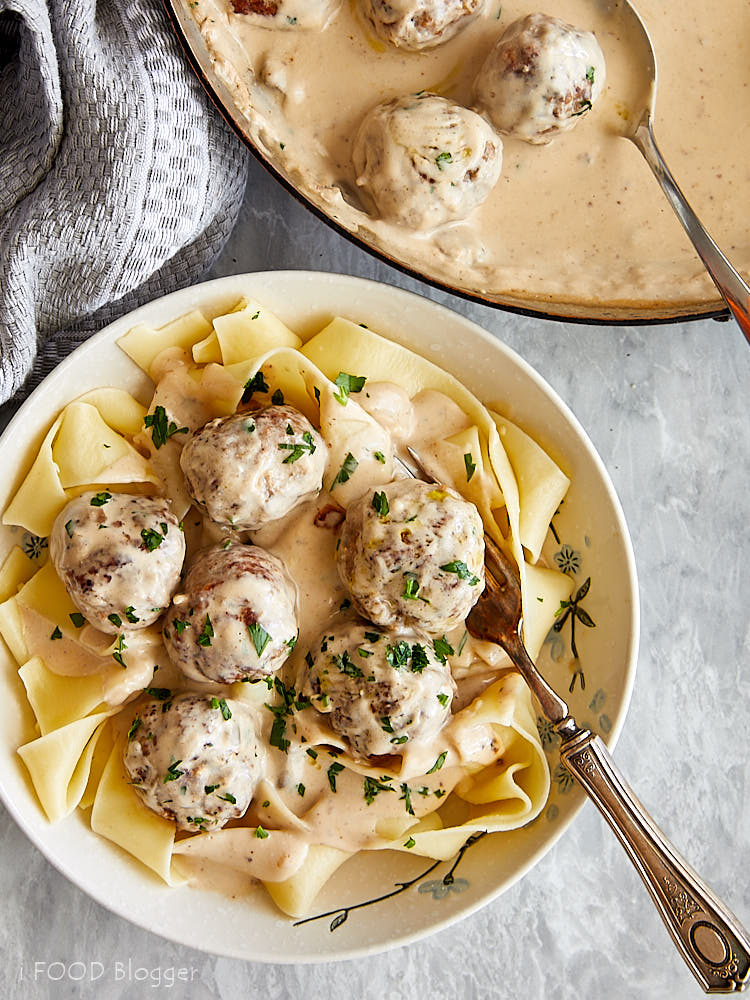 There is something special about Swedish meatballs with cream of mushroom soup. The depth and richness of mushroom soup takes meatballs to the next level that can't be replicated by other ingredients. Whenever possible, I make my own cream of mushroom soup, but a can of store-bought soup will do the trick. A cup of the soup is enough for this recipe but you can easily add another half a cup if you like.
To introduce some color and acidity, and more flavor, I like adding a tablespoon or two of Worcestershire to the mushroom sauce, but that's totally optional in this recipe.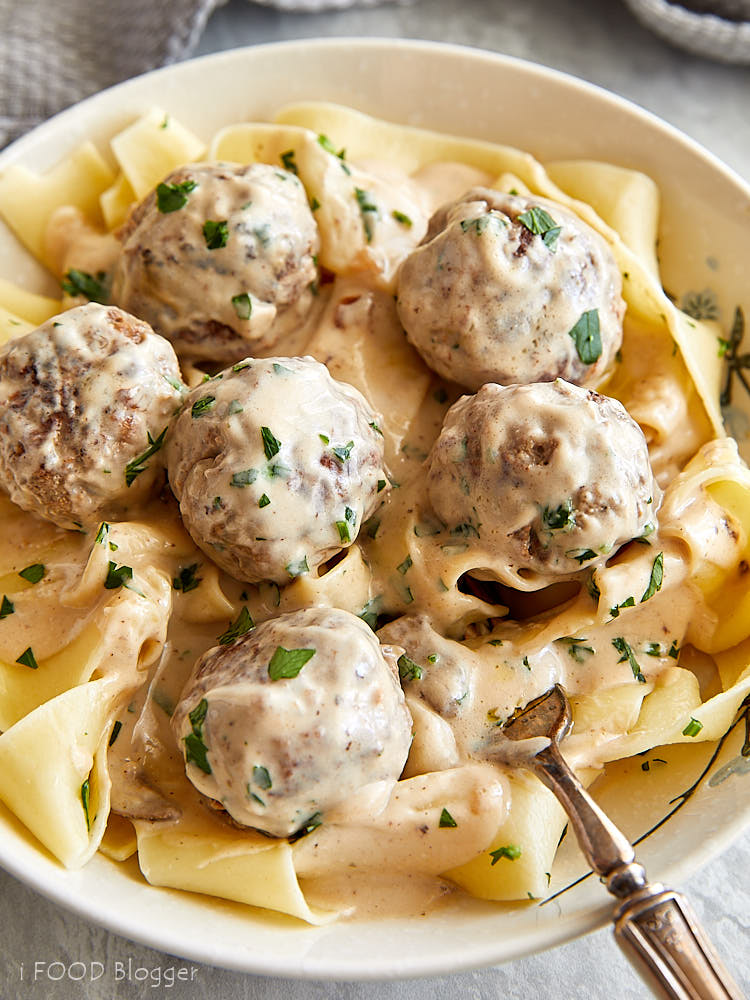 The trick to making the Swedish meatballs more flavorful is to roast bread crumbs before mixing them with ground meat. Very few recipes that I've seen recommend doing and that's a big omission. Seriously, follow this tip and you will understand what I am talking about. It only takes a few extra minutes.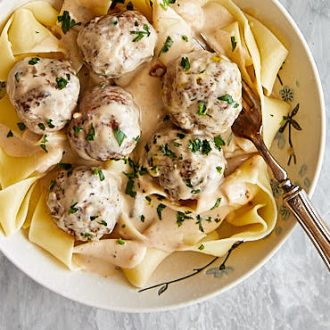 Ingredients
For the meatballs:
1/2

cup

bread crumbs

1

small onion

(finely chopped)

2

Tbsp

olive oil

1

Tbsp

fresh parsley

(finely chopped)

1

lb

lean ground beef

1/2

lb

lean ground pork

1/4

cup

milk

1

egg

1/4

tsp

ground nutmeg

1/8

tsp

ground allspice

1/2

tsp

garlic powder

(or granulated garlic)

1

tsp

kosher salt

1/4

tsp

ground black pepper
For frying meatballs:
1

Tbsp

olive oil

2

Tbsp

butter
For the sauce mushroom soup sauce:
1

cup

beef broth

1

cup

cream of mushroom soup

(you can add 1 1/2 cups if you want more sauce)

1/4

cup

sour cream

1

Tbsp

Worcestershire sauce

(optional; plus more to taste)
For garnish:
1

Tbsp

fresh parsley

(finely chopped)
Instructions
In a large non-stick skillet, roast the bread crumbs over medium to medium-high heat, stirring constantly.

Bread crumbs are done when darker in color and smell toasty. That takes about 2-3 minutes. Transfer to a large mixing bowl.

In the same skillet, heat two tablespoons of olive oil, add the chopped onions and cook them until soft, about 3 minutes. Season with a pinch of salt and pepper and transfer to the bowl with the breadcrumbs.

Add the ground meat, milk, egg, parsley, salt and spices to the bread crumb and onion mixture. Mix well to combine.

From the meat mixture, make approximately 20 meatballs of even size. Set aside on a plate.

Heat oil and butter in a skillet over medium-high heat. Brown the meatballs on all sides. If you skillet is not big enough, you may wan to do it in two batches so that it's easier to turn the meatballs. Set aside on a plate.

Pour the broth to the skillet and bring a boil, stirring to scrape up the browned bits from the bottom of the skillet. If you used a non-stick pan, you probably won't have many of those, which is OK.

Stir in the cream of mushroom soup and the sour cream.

Return the meatballs back to the pan. Reduce heat to low, cover and cook for 5 minutes or until the meatballs are cooked through.

Serve the meatballs while they are hot with noodles, with the sauce poured over and a sprinkle of fresh parsley on top. If you don't want to serve immediately, keep the meatballs warm, tightly covered.
Nutrition
Calories:
409
kcal
|
Carbohydrates:
12
g
|
Protein:
27
g
|
Fat:
27
g
|
Saturated Fat:
10
g
|
Cholesterol:
119
mg
|
Sodium:
1056
mg
|
Potassium:
548
mg
|
Fiber:
0
g
|
Sugar:
2
g
|
Vitamin A:
340
IU
|
Vitamin C:
3.7
mg
|
Calcium:
66
mg
|
Iron:
3.3
mg