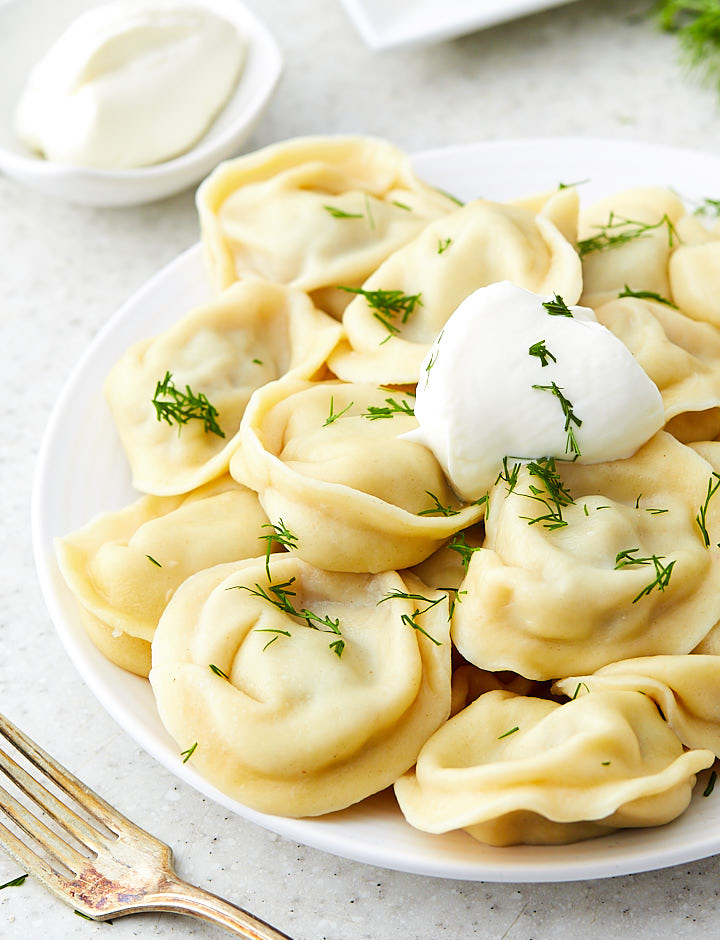 Let me share something very special to me today, a traditional Russian pelmeni recipe. This recipe has been in my family for generations. With a few tips along you can make pelmeni that are very flavorful and explode with tasty juices as you bite into them. That's how they are supposed to be: plump, meaty, flavorful and filled with tender and juicy meat filling.
Making pelmeni is a bit laborious, that's why I haven't been making them that often… rarely, actually. Well, all that has changed recently with the acquisition of a pasta roller attachment for my KitchenAid stand mixer. I wrote about it in the Sesame Crackers post.
I've been thinking of getting one for a long time but could not justify the expense. Little by little I've accumulated enough recipes that would really benefit from a motorized pasta roller so it became a no-brainer. And, boy, does it help making the dough for pelmeni a breeze! As much as the stand mixer itself is helpful with mixing stiff pasta, sambusa or pelmeni dough.
The quality of pelmeni directly depends on the dough and the filling. Everything must be right to give you the best eating experience. How you make pelmeni also make a huge difference. Let me share a few tips that will help you make the best pelmeni ever.
The dough
The dough should be very stiff. Stiff dough is easier to roll out thin. Stiff dough does not require much flouring, if any, during rolling out. No flour helps create a much better seal when you make pelmeni. A good seal is very important. It will mean that no water during boiling will get in and ruin the filling. Most importantly, the awesome flavorful juices will stay inside for you to enjoy them.
Stiff dough also holds its shape better, and the pelmeni come out looking plump and shapely. I could just eat them with my eyes. They are gorgeous.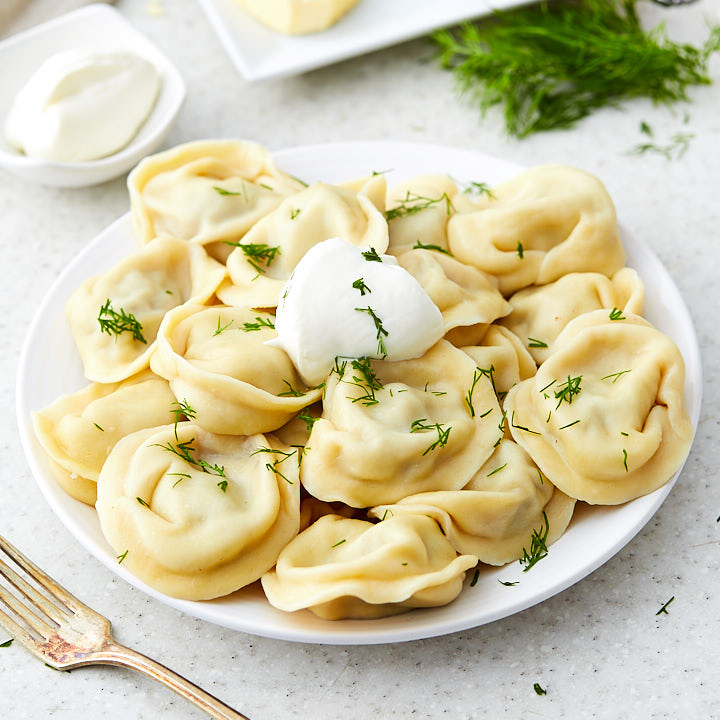 I see many modern recipes that call for soft dough and that results in many problems. Soft dough is very hard to roll out thin without tearing. Thick dough throws the taste out of balance. Then you will also have poor seals. Soft dough needs flouring to prevent sticking. The flour will result in a poor seal here and there, you won't even notice it. The result is a pelmen (singular for pelmeni) that falls apart during boiling, or lets some water in and has it's filling ruined.
The meat filling
Traditional plemeni are made with a 50/50 mix of pork and beef. Sounds simple enough, but there is more to it. Just like a perfect burger that needs to have the right cut of beef and the right amount of fat, great pelmeni are a result of proper meat selection. My grandma always used beef shoulder (chuck) and pork butt when she could. Her pelmeni were famous. I do the same and use a 50/50 mix of chuck and pork butt. I also add a little bit of trimmed off fat back in the mix, this way I can control the fat content better.
Oh, almost forgot. The beef and the pork, no matter how good or fatty won't make a great filling. You need to add raw onions into the mix. The onions add a little sweetness and, most importantly, a lot of moisture. Just like they do in Uzbek Sambusa meat filling. It's primarily the onions that make the meat filling so moist and juicy, and don't let it turn into a rubbery meat ball.
In the end, you will be rewarded with the juiciest, the softest, the most flavorful meat filling imaginable.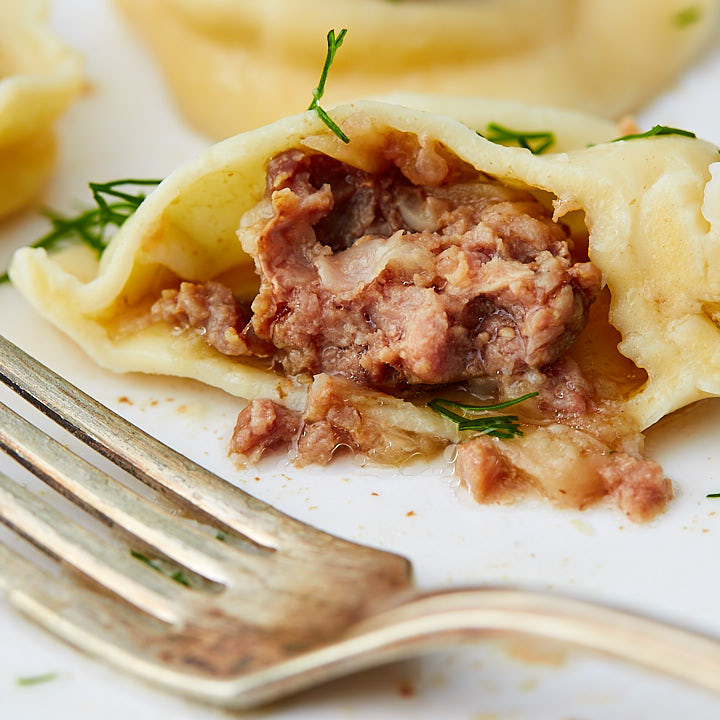 Again, I've seen some modern recipes that suggest adding sautéed onions into the filling for better flavor, but that's counterproductive. Sauteed onions have lost most of their water during cooking and won't be able to release it into the pelmeni filling. It's better to add caramelized onions on top of pelmeni when serving, though this is more commonly done with pierogi.
The process
There is not much to add here. You can shape pelmeni by hand or use a pelmeni mold. But as they say, pelmeni don't like mechanized production. I've tried both. My preferred way is to hand shape them. There isn't much saving in time considering the time you spend fiddling with the mold which is not as simple to use as it looks. Plus the tiny size and the non-traditional shape. They just don't have the same mouth feel. Perhaps it's because of the skewed dough to meat ratio.
Whatever you do, make sure you seal the pelmeni really well. How they look is of lesser importance.
Finally, pelmeni making is not a one person job. It's a family thing. One person is rolling out the dough and cutting out the circles, another person or two are adding the filling and shaping them makes things super fast and enjoyable.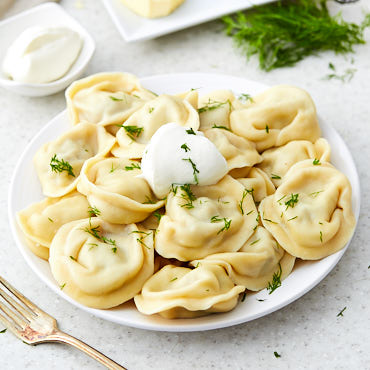 Ingredients
For the dough
350

g

bread flour

120

g

water

6

g

kosher salt

1

egg
For the meat filling
200

g

pork butt

ground on a medium plate

200

g

beef chuck

ground on medium plate

25

g

pork fat

trimmed from pork butt, ground on medium plate

2

small yellow onions

each about 100 g or 3.5 ounces, ground or finely chopped

6

g

kosher salt

I like using pink Himalayan salt, it tastes great

1/4

tsp

freshly ground black pepper
Instructions
To prepare the dough, sift the flour into a bowl. They say that sifting the flour makes for better pelmeni dough. Make a hole in the center of the flour. Pour the salted water and a slightly beaten egg. Mix until all the flour is incorporated. The dough will be quite stiff. Using a stand mixer fitted with a dough hook will make the job very easy though. As the dough is stiff, watch your mixer very closely. If your mixer isn't powerful enough and struggles, it's better to finish by hand.

Cover the dough and let it rest for 30 minutes or longer. I like to refrigerate my pelmeni dough for 2-3 hours before using it.

Meanwhile, prepare the meat filling by combining the beef and pork meat, fat, onions, salt and pepper.

Roll the dough out about 2 mm thick, #4 on the Kitchen Aid pasta roller attachment. Cut into 3-3.5" circles.

Fill each circle with 16 g of meat filling (1 heaping Tbsp).

Fold the circle in half and crimp well.

Bring the ends together and crimp.

Set aside. It's best to refrigerate or freeze finished pelmeni before you are ready to boil them.

Alternatively, use a pelmeni mold.

Bring water to rolling boil in a large pot over high heat. Drop pelmeni into boiling water. Wait till it starts to boil again, turn the heat to medium, and cook for 8 minutes or a little longer for softer dough. The total time from dropping into water to removing is about 16 minutes.

Remove from the water, drain and gently toss with a little bit of butter to prevent sticking. Serve immediately with sour cream, chopped fresh dill and a saucer filled with vinegar. Yes, pelmeni are fantastic with sour cream and a little bit of vinegar. I love using malt vinegar for pelmeni.
Notes
You may freeze pelmeni for up to 3 months. When cooking frozen, pelmeni do not need to be defrosted. The cooking process is the same as described in the recipe, you just need to cook them 5-8 minutes longer.
Nutrition
Calories:
113
kcal
|
Carbohydrates:
13
g
|
Protein:
6
g
|
Fat:
3
g
|
Saturated Fat:
1
g
|
Cholesterol:
22
mg
|
Sodium:
251
mg
|
Potassium:
103
mg
|
Fiber:
0
g
|
Sugar:
0
g
|
Vitamin A:
10
IU
|
Vitamin C:
0.8
mg
|
Calcium:
9
mg
|
Iron:
0.5
mg