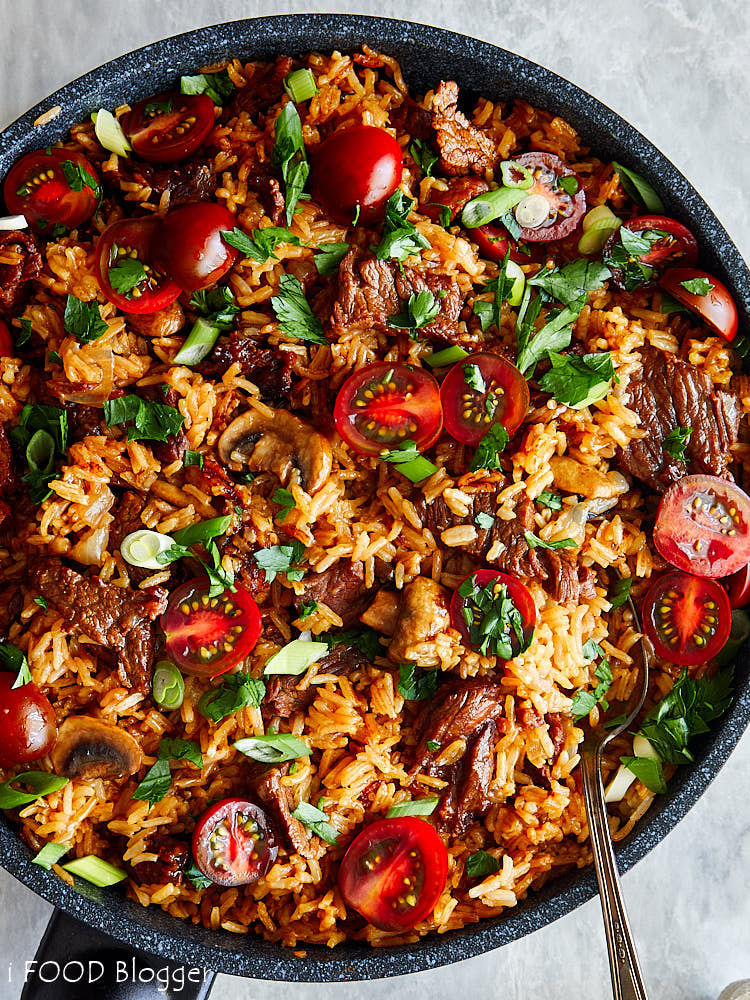 Every home cook should have a good beef fried rice recipe because it's super simple and quick to make, it's delicious, can be frozen, and it tastes great reheated the next day, or even 3 days later, making it a perfect candidate for cooking ahead.
With that said, here is my best beef fried rice recipe that is so good and so satisfying that your family will love you for it. It may taste like comfort food but at less than 500 calories per serving it hardly is. I am sure you will be making it over and over again.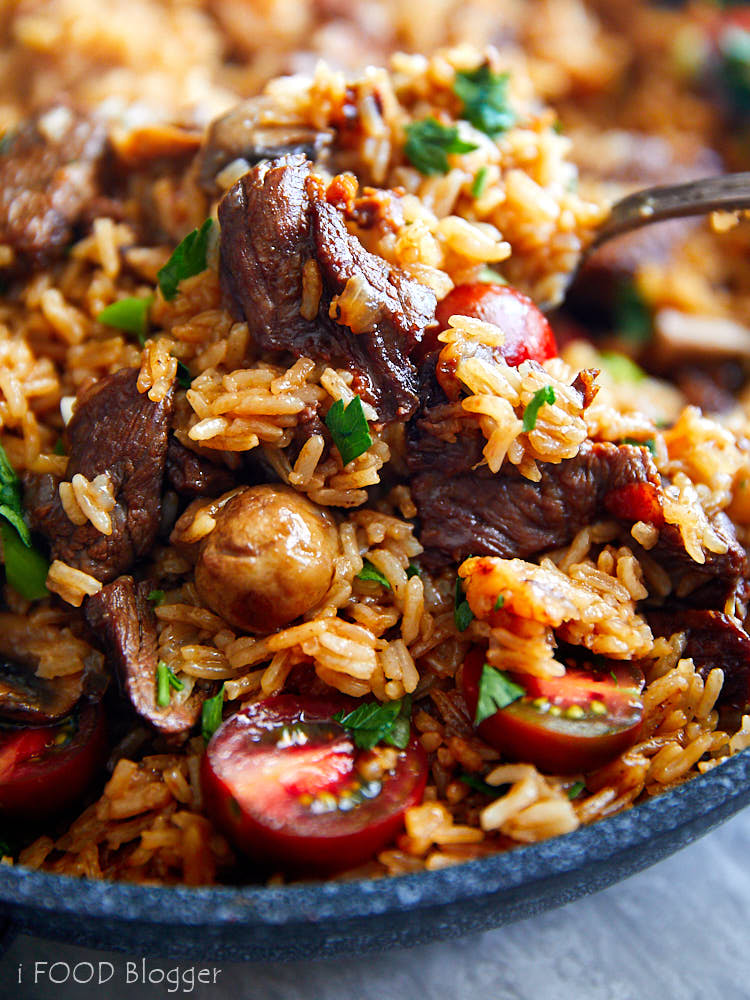 Cherry tomatoes are not a typical ingredient in beef fried rice but I like adding them anyway as their acidity and brightness help balance out the richness of the butter fried rice. And, in general, they seem to go very well with this dish. I sometimes substitute cherry tomatoes for sliced pickles which are also acidic and work really well with this dish.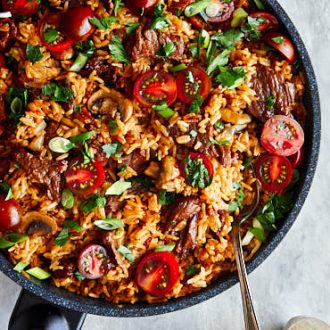 Ingredients
2

lbs

flank steak

(sliced into short, thin strip across the grain)

3

Tbsp

peanut oil

(for frying; you may use vegetable oil instead)
For the beef marinade
2

Tbsp

dark soy sauce

1/4

cup

low sodium sauce

2

Tbsp

oyster sauce

2

Tbsp

Shaoxing rice wine

1 1/2

Tbsp

cornstarch

2

tsp

sesame oil

1

Tbsp

honey

1 1/2

tsp

kosher salt
For the rice
2

cups

white rice

(dry, not rinsed in water)

1

yellow onion

(chopped)

2

garlic cloves

(minced)

2

cups

mushrooms

(white or crimini, sliced)

3

Tbsp

butter

(or vegetable oil for a lighter version)

3

cups

beef broth

(seasoned and salted just right, heated)
For garnish
1

Tbsp

fresh parsley

(chopped)

2

Tbsp

scallions

(thinly sliced on the diagonal)

2

cups

cherry tomatoes

(cut in halves)
Instructions
To prepare the beef
Place all of the ingredients for the marinade in a bowl and mix well. Add the sliced beef and mix to ensure proper coverage. Set aside and let marinate for about 20 minutes at room temperature.

Heat 2 tablespoons of oil in a skillet over medium-high heat. Stir-fry half the beef until it is browned on the outside but still pinkish inside. Remove from the pan and set aside. Add another tablespoon of oil, then brown the remainder of the beef, remove from the pan and set aside.

Do not discard any of the leftover marinade, we will use it later.
To prepare the beef fried rice
In the same skillet, heat 1 tablespoon of butter over medium-high heat. Add the chopped onions and stir-fry until lightly golden brown, about 2-3 minutes. Add another tablespoon of butter, then the mushrooms and continue frying, stirring frequently, for another 2-3 minutes, until the mushrooms a lightly browned. 

Add another tablespoon of butter, let it melt, then stir in the rice. Continue stir-frying for another 3-4 minutes, until the rice starts to turn golden brown and smell a little nutty. Add the garlic, and continue cooking for about 20-30 seconds.

Carefully and slowly pour in the hot broth while stirring. Watch out for steam and liquid splattering as you begin to pour broth into a hot skillet.

Return the beef and any remaining marinade back into the skillet. Stir well and make sure that the liquid in the pan is boiling. Lower the heat to low, cover the pan with a lid and cook for 10 minutes, undisturbed.

Remove from heat and check If there is still some liquid left at the bottom of the pan. If so, cook covered for another few minutes until most the liquid is gone. Remove from heat an stir well.

Garnish the beef fried rice with chopped scallions, parsley and cherry tomatoes before serving.
Nutrition
Calories:
485
kcal
|
Carbohydrates:
50
g
|
Protein:
30
g
|
Fat:
16
g
|
Saturated Fat:
6
g
|
Cholesterol:
79
mg
|
Sodium:
1347
mg
|
Potassium:
680
mg
|
Fiber:
1
g
|
Sugar:
7
g
|
Vitamin A:
370
IU
|
Vitamin C:
11.1
mg
|
Calcium:
55
mg
|
Iron:
2.9
mg